Delta Variant Breaks Out in Community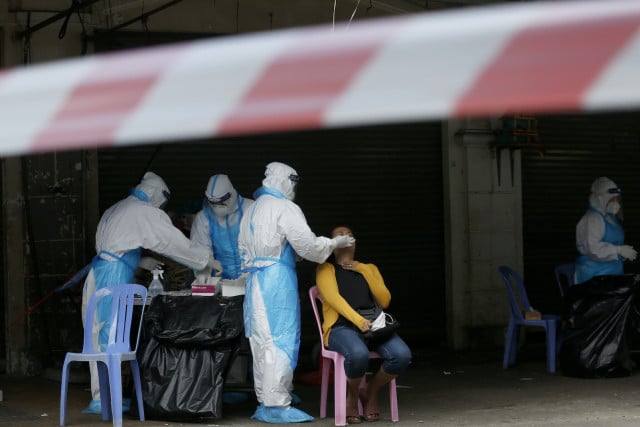 Migrant workers and young hit by virulent strain
PHNOM PENH--A further 109 cases of the coronavirus Delta variant have been detected in Cambodia, bringing the total cases of the highly transmissible strain to 223 as of August 1.
The Institut Pasteur du Cambodge (IPC) said 43 cases were detected on July 30 and 66 cases on August 1, five of which were found in Phnom Penh and one of which was of a Malaysian.
The Ministry of Health said most of the newly infected patients with the Delta variant were migrants returning from Thailand through the border crossings of O'Smach, Malai, or Prom.
The ministry said the infection is on the rise among young people who have been out and about with friends.
Health Minister Mam Bunhneng has been urging the public to adhere to quarantine principles as well as the government's preventive measures.
The Delta variant is passed on more quickly than other known variants and is wreaking havoc around the world, according to the World Health Organization.
WHO Cambodia said the variant could be more deadly if the virus is not contained, adding that people should act together.
"We are racing against new variants," said Li Ailan, WHO representative to Cambodia. "We must act today, and we must act fast to have no regrets tomorrow."
No single measure could suppress transmission unless there was good public compliance.
"I urge everyone to take every necessary and recommended action to protect themselves, their families, and others from getting infected by the virus," Li Ailan said.
As of August 2, a total of 7,385,013 people, including 36,830 children, had received their first dose of vaccine while 4,847,246 had both doses.
Cambodia will use the AstraZeneca vaccine to boost the immunity of people who have been vaccinated with the Sinopharm or Sinovac vaccine.
On July 29, Cambodia imposed a lockdown in eight provinces bordering Thailand and a curfew from 9pm to 3am in Phnom Penh until August 12.
As of August 2, Cambodia had recorded Covid 78,474 cases with 71,517 people having recovered. The disease has so far claimed the lives of 1,442 people in the country.
Related Articles