Dengue cases in Philippines surge to more than 188,000, with over 800 deaths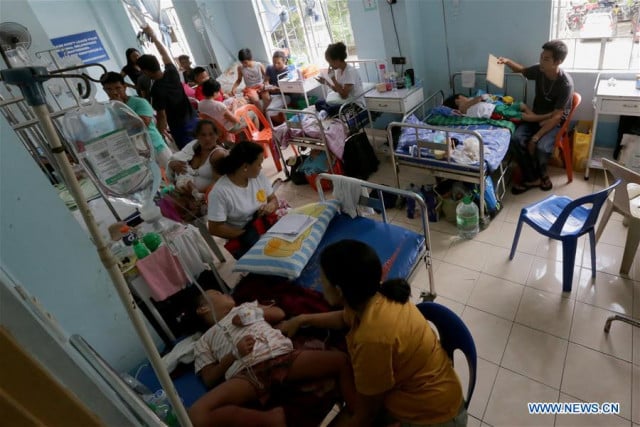 Xinhua
August 20, 2019 3:47 AM
MANILA -- The number of dengue cases in the Philippines in the first eight months of this year has surged more than 188,000 with 807 deaths, the Department of Health (DOH) of the Philippines said on Tuesday.
The DOH has tallied 188,562 dengue cases from Jan. 1 to Aug. 3 this year, according to its dengue surveillance report. This number is more than double the 93,149 cases recorded in the same period last year.
Moreover, the DOH said there have been 807 deaths, which are higher than the 497 deaths recorded in the same period in 2018.
According to the DOH, the regions now under the epidemic threshold level are mostly in the central and southern parts of the Philippines.
DOH data also showed the age group mostly affected by dengue are those from five to nine years old, with 43,047 cases, or 23 percent.
"The dengue cases continue to rise," Health Undersecretary Eric Domingo said, appealing to Filipinos to heighten efforts to clean up and destroy mosquito breeding sites to contain dengue.
On Aug. 6, the Philippines declared the country's outbreak of dengue to be a national epidemic to improve the response to the outbreak by allowing local governments to draw on a special quick response fund.
The DOH has warned that the dengue cases will likely continue to rise until October because of the rainy season.
Dengue is a mosquito-borne viral infection found in tropical countries worldwide. It can cause joint pain, nausea, vomiting and a rash, and can cause breathing problems, hemorrhaging and organ failure in severe cases.
The global incidence of dengue has grown dramatically in recent decades. The World Health Organization (WHO) said the incidence of dengue has increased 30 fold over the last 50 years.
There is no specific treatment for dengue, but early detection and access to proper medical care lowers fatality rates below 1 percent.
​
Related Articles