Destructive Extreme Weather will Become More Frequent, Warns Mekong River Commission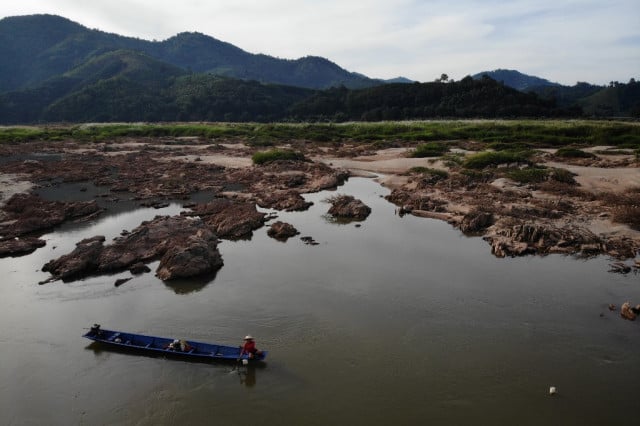 Sao Phal Niseiy
June 17, 2020 12:22 PM
A new and damning report from the Mekong River Commission warns of widespread ecological and economic impacts if action isn't taken to address climate change and water security in the region.

PHNOM PENH--The Mekong region will witness an exponential increase in the frequency of floods and droughts, as well as other extreme weather events, according to the Mekong River Commission (MRC) who released a 100-page report on June 16 calling for more unified cooperation and inter-governmental sharing of information to tackle climate change.

In their report, the commission indicated that the Mekong region is now at an even greater risk of extreme weather events, pointing to the extreme low flows and extensive flooding of different riparian communities along the Mekong River throughout 2019, as well as recurrent droughts in the region.

"Severe droughts in the Lower Mekong Basin (LMB) have caused substantial economic losses due to damage of agricultural crops, negative impacts on the environment, and adverse effects on people's livelihoods," the report read.

As the region will continue to be struck by more intense weather events in the future, it is vital that the countries in the region develop the means of robust, close cooperation and openly share more data and information so that all nations can better prepare for the inevitable floods and droughts, the MRC Secretariat's Chief Executive Officer An Pich Hatda said in a statement.

"The countries along the Lower Mekong River need to step up their collective efforts in addressing the problems facing them now and, in the future, for example by ensuring transparency, quality and timeliness in water data sharing," said Hatda.

He added that "Modernizing the existing data systems using advanced technology will be necessary."

According to the report, in order to assist countries in dealing with above challenges, the MRC has been developing a strategic approach known as "Drought Management Strategy for 2020-2025," which centers on five areas such as drought indicator monitoring, drought forecasting and early warnings, capacity building in drought assessment and planning, mitigation measures, and information sharing systems.

More significantly, drought monitoring and management functions have been integrated into the organization's current flood forecasting work, it added.

Coping with China Collectively

In April 2020, the US-based monitoring group Eyes on Earth released a report, which based on modeling techniques derived from satellite data, highlighted the role that China's dams have played in disrupting the flow of the Mekong, leading to flooding and exacerbating downstream droughts throughout 2019.

The Stimson Center's Energy, Water and Sustainability Program Director for Southeast Asia Brian Eyler explained that as droughts hit the lower Mekong basin countries as well as some part of southern Yunnan's basin in China, the upstream of the basin—particularly the area above the Chinese city of Dali—received higher than normal amounts of precipitation throughout the traditional monsoon season.

"If China's 11 dams were not there, much more water would have been available along the Mekong mainstream and in the areas that take water from the mainstream," said Eyler in an interview with Cambodianess in May.

However, the commission noticed that China has so far been more open to cooperation and demonstrating its desire to effectively communicate in term of policies in managing resources as well as dealing with regional challenges.

"It is worth noting that China itself also has wanted to communicate better its policies, intentions and actions in the region," the MRC secretariat said in an email response to Cambodianess.

"The MRC member countries have enjoyed stronger cooperation among themselves and gained more trust from the public. Being closer with and supportive to us is also what benefits China," it added.

The Mekong River, with a length of 4,350 km, flows from China's Tibet plateau through other five countries including Myanmar, Thailand, Laos, Cambodia and Vietnam.

China, which controls the upstream river flow, is not a member of the MRC, but moved to establish its own sub-regional framework known as the Mekong-Lancang Cooperation in 2016 which includes all six Mekong countries. This immediately sparked concern that China was more concerned with competition than cooperation when it came to managing the river.

Ham Oudam, a consultant on natural resources and water governance, agreed that pushing China to share more data would be critical in helping the countries to better prepare for coping with the inevitable droughts and rising unpredictability of flash floods.

However, the expert remained doubtful about how effective the MRC's ways would be in warranting China's accountability and transparency, noting that the current diplomatic efforts made by the commission do not seem effective.

"The four riparian countries need to come up with a mutual understanding, especially in adopting international laws as the United Nations Watercourse Convention which gives jurisdiction over the development of the Mekong River including dam," Oudam said.

"Once the lower Mekong countries can have this kind of international or regional law in place, they can utilize it when dealing with China," he stressed.

However, the MRC emphasized that it has been able to further build trust and confidence through deploying a wide range of mechanisms ranging from political to technical levels in efforts to accommodate and deepen the ties with China.

Of which, the MRC highlighted that China also agreed to continue providing water-level and rainfall data during flood season, starting from June 1 until October 31 for five years.

In additional to legal means and data exchanges, Eyler said the studies by Eyes on Earth could serve as a critical means in assisting Mekong countries in dealing with China's control over the water.

"This study [Eyes on Earth] provides a method for understanding how much water should be available to downstream countries if China's dams weren't altering flow," he continued. "Downstream countries would be wise to adopt these methods to improve transparency over the operations of China's dams and push for a more equitable share of water to the downstream."

Climate Change an Urgent Threat

In addition to dam construction, cumulative occurrence of droughts and flooding in the region can also be partially attributed to manmade climate crisis.

According to Global Climate Risk Index report, most Mekong countries are extremely vulnerable to the impact of climate change with Myanmar and Vietnam listed in the top 10 most vulnerable countries globally. Cambodia and Thailand, meanwhile, are both in the top 20.

Rising global temperature will likely pose a threat to regional food security and result in tremendous economic loss in the near future. Based on studies conducted by the MRC, who conducted a basin-wide assessment of climate change impact on the Mekong water resources and related sectors, the lower Mekong basin could suffer an average annual cost of $60 million to $70 million as a result of flooding alone.

In dealing with climate change impacts, the MRC said it has been cooperating with countries in the region on climate adaptation and mitigation, particularly focusing on capacity building and developing responses to extreme weather events at both regional and nation levels.

When asked what should be done to mitigate climate impacts in the region, Oudam responded that the Mekong countries first would have to put an end to political game which he believes, "risks approximately 70 million citizens whose lives relied on the natural flow of the river."

He suggested any decisions on the future of the Mekong River and its related "climatic and socio-economic aspect have to be made more empirically."

On top of that, Oudam noted that all Mekong countries need to recognize the importance of several scientific studies and research, which call for them to focus more on maintaining the free flow of water rather than constructing more large-scale infrastructures on the river.

"Most of them [scientific studies and research] have recommended to ensure a free flow of the river rather than building large-scale infrastructure in it so as to keep the socio-economic as well as ecological benefit for the countries," he added.
Related Articles