Digital Education at Heart of Education Reform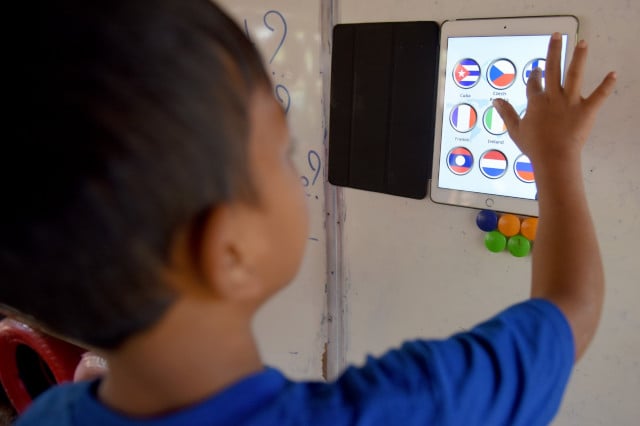 PHNOM PENH – Promoting digital learning is one of the keys to help teachers develop their methods and for students to improve their studies, Education Minister Hang Chuon Naron says.
He said the Ministry of Education, Youth and Sport was focusing on eight priorities.
These were reforms to change a cheating culture to a knowledge-based culture, promoting STEM to respond to the demand for development, promoting digital learning, cultivating 21st century skills, improving the health of instructors and students, establishing a center of excellence in institutes to develop pedagogical skills, continuing to reform teacher training centers, and strengthening the education system as a whole.
"Based on the experience gained during adaptation to online learning, the promotion of digital education is the third priority to help both educators and students with digital rooms in schools, and videos for teachers to improve their teaching methods and students to improve their learning," he said in an interview on Sept 13.
Ministry spokesperson Ros Soveacha said Cambodia was moving to a digital economy which requires all sectors to be prepared. Education was no exception. Promotion of digital education was one way to prepare.
Due to the pandemic, the ministry worked hard to adapt digital learning and teaching sooner than planned in the Education Strategic Plan 2019-2023 and related plans.
Rin Theara, in 11th grade, thinks learning online is not so effective for younger students in primary and secondary schools because they tend to get distracted by social media.
"Some just joined the class online for attendance but they didn't really study, plus the teacher's lack of attention to the students was the reason online learning is not effective," she said.
"To me, online learning made it convenient in terms of listening to teachers or noting down the lectures, but, from what I've seen, studying in a physical classroom is more effective because teachers' explanations are more informative and detailed," she said.
"Studying through smartphones is distracting."
Theara believes digital learning can be useful only when students can spare time at home helping their parents because they do not attend class in person.
Her academic performance is another reason she prefers a physical class. The lack of teachers' attention to their students' performance encouraged some students to procrastinate, she said.
However, from a higher education student's perspective, digital learning can help in terms of advancing students' ability to use technology and for self-regulation.
Chea Linda, a senior university student of international relations, said digital learning should be promoted because it saves so much time regardless of the challenges. Students can study in classes for subjects that require practical experiments.
After emotional and academic challenges, Linda is glad that students are now studying in classrooms again but it was undeniable that e-learning helped her a lot.
"It's difficult to define how much I was used to studying online, but I can tell that I got familiar with e-learning because I studied online for almost three years," she said.
"From my experience, there is a huge difference between learning online and in a classroom. For studying online, I felt like I was studying alone with my phone.
"I lost all the concentration on studying as well as feeling sleepy and lazy. However, in the physical class, I felt I concentrated more than I did during online classes since the environment in the class made me motivated to study," Linda said.
Online learning gave her a lot of time for self-studying and learning to be an autonomic learner though she tended to do better in a physical class.
Learning online helped her a lot with advancing technology skills by allowing her to use more of the Internet and e-applications.
One part-time teacher at a private school, who asked not to be named, said the promotion of digital education was a good idea but there were challenges.
With nearly four years of teaching and two years of online teaching, he believes that digital learning is the future of education and it was good for the government to focus on promoting digital education.
One challenge was for teachers to learn about e-systems such as e-platforms or apps for teaching.
Teaching skill concepts were the same but teachers needed to find more way to get things across. This was not easy but because of different platforms and apps, they had more tools to make it happen, he said.
The teacher said learning to use those tools and teaching online opened up new ideas to new methods and activities in real classrooms, so that was a plus.
According to the Education Strategic Plan 2019-2023, the promotion of digital education includes integrating information and communications technology (ICT) into a tool for teaching and learning, especially using e-learning to support the delivery of education services to all sub-sectors in education, and equipping students with knowledge and skills on ICT to transition into 21st century employment.
Related Articles