Disaster-resilient farming practices seen boosting gains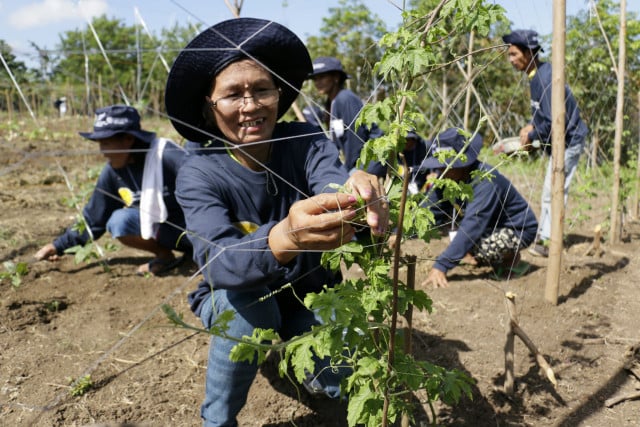 Thmey Thmey
May 13, 2019 4:01 PM
FAO says new study shows that innovations can generate benefits 2.2 times higher than practices previously used

PHNOM PENH - Farmers can enjoy economic gains by modifying practices to boost their ability to cope with disasters and natural shocks, the Food and Agricultural Organization of the United Nations (FAO) said Monday.
In a statement released in Rome, it said many disaster resistant farming innovations were within "easy reach of poor farmers" and did not need major investment.
The FAO said it assessed the innovations in multi-year trials on more than 900 farms in 10 countries.
"These innovations did not merely act as a buffer against disaster damages - in most cases, they significantly improved farm yields and financial gains even in the absence of any natural disasters," the statement said.
Mangroves, flood-resistant rice, rooftop water
Low-cost options ranged from natural solutions — such as planting mangroves to protect coastal areas from floods — to using flood-resistant rice varieties and installing rooftop water-collection and irrigation systems.
The UN agency said the innovations were documented in a new FAO study released Monday.
Dominique Burgeon, director of the FAO Emergency and Resilience Division, said disaster-risk reduction (DRR) mostly made "good economic sense" for farms.
"Investing in DDR early can save many dollars that would otherwise be spent on post-disaster rehabilitation," he said. "Farm-level DRR good practices are often 'no-regret' measures - meaning that they prove effective in providing added benefits even in the absence of hazards."
'Considerable potential'
The FAO said the study showed that the practices it assessed had "considerable potential" to reduce the damage from smaller-scale or lower-intensity disasters.
"Hazards like dry spells or cold spells recur more frequently (than big disasters) and represent a constant and significant problem for the 2.5 billion people on the planet who rely on small-scale agriculture."
The FAO said the innovations generated benefits 2.2 times higher than practices previously used — including increases in production and hazard-associated risks.
The agency said the average benefit-cost ratio was 3.7 in hazard scenarios, meaning that for every dollar invested the farmer achieved $3.70 in terms of avoided loss or return. Under non-hazard conditions, this rose to $4.50.
"Such practices can prevent economic losses at household level, with immediate and palpable benefits to the lives of billions of people, and can also deliver economic benefits at the regional and national levels," it said.
Related Articles