Discrimination and Lack of Support Obstruct Women From Standing for Election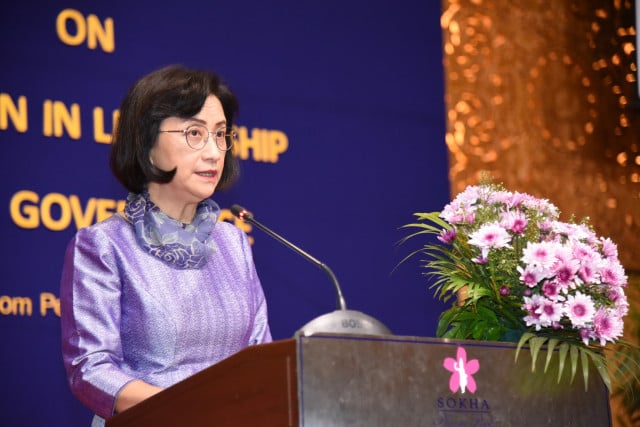 Women are deprived of opportunities and information to participate in politics
PHNOM PENH – Promoting gender equality and women empowerment would enable women to get involved in public governance, defending laws and programs that may respond to the needs of citizens, said Minister of Women's Affairs Ing Kantha Phavi.
Speaking at the National Forum on "Women in Leadership and Governance" on May 17, the minister also addressed that the barriers to women's political participation and decision-making include social stereotypes, prevalent discrimation against women, women's own negative views on politics, and the lack of financial and family support.
Kantha Phavi emphasized: "Negative views on politics among women themselves make women reluctant to stand for elections or to take up a position of responsibility." As a result, the number of women involved in Cambodian political and public affairs is lower than men, despite women representing 51.3 percent of the Cambodian society, according to the 2019 census.
Oeun Sary, the No.1 running candidate of the Candlelight Party for the upcoming commune election at Prek Sleng commune, Kandal Steung district, Kandal province said that if men are qualified to do anything, so are women. Because of her self-motivation and self-determination, she was able to reach where she stands today.
"My family showed no objection to my decision … though I didn't receive any encouragement at all from them either. What I have become and done to these days is because of myself. I decided myself I wanted to work in that area, the field that most women don't want to work in as it is still considered as a work only suited for men," Sary said.
"When you encourage, push and give yourself a chance to change, to participate in politics and to help the community, men who are incapable of fulfilling their responsibilities will withdraw themselves from their positions and allow women, who are more capable than them, to step in and do the job," she added.
"Compared to 10 years ago, the number of women civil servants has increased," said Seng Reasey, executive director of SILIKA, a local NGO promoting gender equality and sustainable participation in public governance. "However, women in higher positions in politics, for example members of parliament or sitting in commune councils, is relatively low in contrast to the number of them in civil service."
At the upcoming commune elections, which will take place on June 5, 17 political parties present a total of 86,042 candidates, with only 27,813 (32.32 percent) are women.
Due to the lack of encouragement and clear support systems for women to fully participate, the mindset of women and the burden of families that still see housework as women's work, deprive women of career opportunities and access to information to participate in politics, Reasey added.
To counter those problems, the Cambodian government, relevant stakeholders, women, and every cell of society have to work together to change the perception of men and women's abilities based on their gender and partial education, in order to promote women's participation in politics.
In the past three years, the government has promoted the implementation of more gender equality policies, through the 5th Gender Equality and Women's Empowerment Strategic Plan (2019-2023), the 3rd National Action Plan to Prevent Violence Against Women (NAPVAW, 2019-2023) and the Neary Rattanak Five Year Strategic Plan For Strengthening Gender Mainstreaming and Women's Empowerment (2019-2023). "The inclusion of women in all sub-administrative levels, institutions and ministries has also increased," said minister Kantha Phavi.
According to a report of the Ministry of Women's Affairs, women represented 41 percent of the total civil servants in Cambodia in 2020, an increase of nine points from 2017. At the National Assembly, female members increased from seven in the first mandate (1993-1998) to 20 in the sixth and current mandate, out of 125 members of parliament. Three out of 29 ministers are women, while two out of 25 provinces are led by a female politician. At the grassroot level, the representation of women as commune chiefs increased from 2.6 percent in 2002 to 7.8 percent in 2018.
Related Articles