Do river sprat use plastic bags as shelter to escape from their enemies?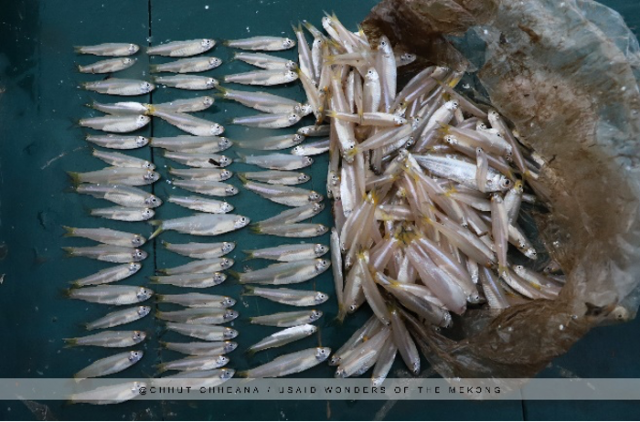 Chhut Chheana /USAID Wonders of the Mekong
February 16, 2021 4:01 AM
The Wonders of the Mekong project team recently joined the fishing efforts of the Dai fisheries on the Tonle Sap as they pulled up big stationary bagnets full of fish.

In these photos we took during that experience, river sprat are gathered in plastic bags that were floating in the Tonle Sap with other waste debris. Plastic waste, cups, bottles, and cans in the river seem to be a place of refuge for river sprat to avoid predators. However, plastic waste does not degrade and poses a major threat to the river environment.

Thach Phanara, Head of the Laboratory of the Inland Fisheries Research and Development Institute of the Fisheries Administration, said that based on his past observations at the Dai fisheries, the river sprat often gather in plastic bags and other items. "I always see river sprat in plastic bags, coffee cups, cans, and bottles," he said. "They go into those waste items as a school."
However, Phanara stopped short of concluding that the fish chose to swim into the plastic bags. He added: "I am hesitant to make any definite conclusions due to the gap in knowledge of this sprat's behavior. According to the biological characteristics of this river sprat, it is a species that feeds in the upper water column near the surface, but that is the only link. The river sprat may be in the plastic bags due to a lack of shelter, or they may be trying to feed on something that is attached to the plastic waste."

Plastic waste is not biodegradable, which poses a major threat to the river environment. Phanara also called on all people living along the river banks to dispose of plastic waste properly and to not throw it in public places or into the river. Let's take care of the well-being of the Mekong River together. A healthy Mekong River Wellness means a healthy Cambodia!
Related Articles