Doing business in Cambodia – S.Korean Businesses are Briefed on Opportunities the Country Offers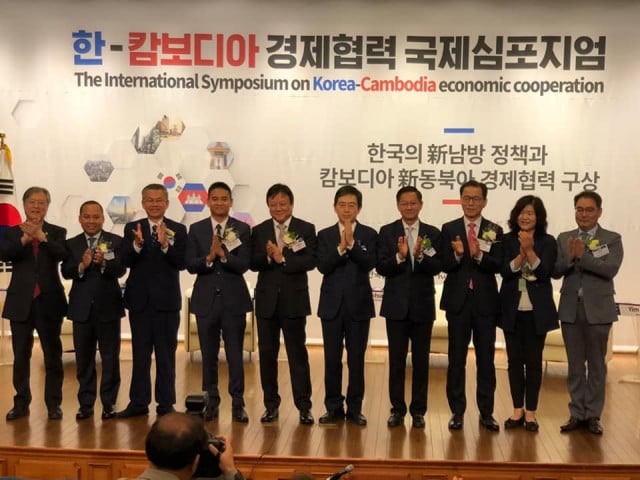 Thmey Thmey
June 5, 2019 10:13 AM
PHNOM PENH--A symposium on doing business in Cambodia was held Monday in Seoul to explain to the South Korean business community the opportunities the country represents.
Held at the National Assembly building, the event included representatives from the South Korean business sector as well as researchers.
"Cambodia is a promising country because of its low entry barriers for foreign companies [and] open investment laws ― in most sectors, 100 percent foreign ownership is allowed," said Kim Sang-mook of the state-funded Korean Trade-Investment Promotion Agency (KOTRA).
"[B]ecause the infrastructure and construction sectors are growing fast, these present opportunities for Korean businesses," he said according to The Korea Times newspaper, which hosted the event with The Hankook Ilbo newspaper.
After the event, Cambodian Ambassador to South Korea Long Dimanche told Thmey Thmey that more and more South Korean companies and investors are showing an interest in Cambodia since the official visit of South-Korean President Moon Jae-in to Cambodia last March.
"As relations between Cambodia and South Korea grow significantly in terms of diplomatic, economic, political as well as people-to-people connection, this forum served as a very important platform for consolidation and exchanging views between both sides over Cambodia's potential growth and opportunity for investments," he said.
In addition to making South Korean businesspeople aware of the advantages Cambodia may present for them, the forum was an opportunity for Cambodia to hear about the country's strengths and weaknesses as viewed by foreign businesses, Dimanche said.
"Some investors who have been investing in Cambodia also [stressed] the challenges for them to expand their operation such as lack of physical infrastructure, energy shortage and some issues in public services," he said. "These [comments] can help us understand our disadvantages and we can work to improve them to attract more investments."
Partnership between the two countries expanding
As Dimanche pointed out, the symposium was also meant to mark the 22nd anniversary of Cambodia and South Korea establishing diplomatic relations, as well as the 30th anniversary of the relations between South Korea and the Association of Southeast Asian Nations (ASEAN).
Cambodia and South Korea established diplomatic relations in 1997. Since then, trade between the two countries has kept on growing, reaching $890 million last year.
The diplomatic and political cooperation has further grown following President Moon's visit to Cambodia in March.
"Cambodia and South Korea are now working and negotiating on upgrading the partnership to a strategic partnership," Dimanche said. "We hope we can achieve it soon."
The effort to strengthen ties with Cambodia comes as President Moon has unveiled a new policy. Titled "The New Southern Policy," its goal is to bolster relations between South Korea and ASEAN, of which Cambodia is a member.
The South Korean leader has invited the heads of states of the 10 ASEAN countries to take part in a special summit to be held in Busan in November to commemorate the 30th anniversary of the ASEAN- South Korea relations.
Related Articles