Dollars Rain for 2021 SEA Games Gold Medalists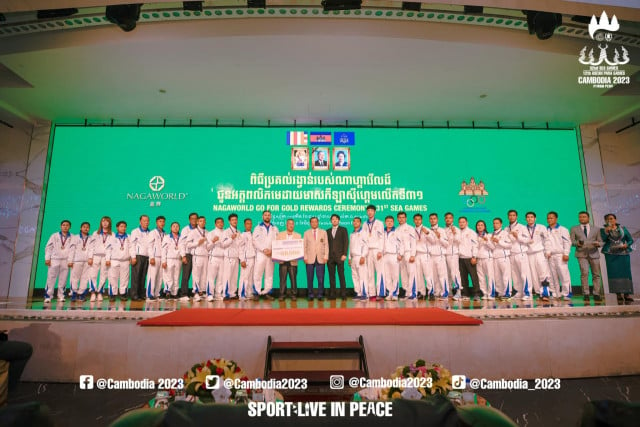 Prizes range from $1,000 to $10,000, totaling $88,000
PHNOM PENH – In continuation with its tradition to support sports excellence with cash rewards for gold medalists at the Southeast Asian Games, NagaWorld doled out a total of $88,000 in cash incentives to Cambodian gold medal winners at the 2021 SEA Games, which took place in Vietnam in May 2022.
The cash incentives were handed over during a ceremony on Friday, June 10, at NagaCity Walk as part of NagaWorld's "Go For Gold" sponsorship agreement with the National Olympic Committee of Cambodia (NOCC).
The program was launched in 2011. This year's rewards allocated $6,000 to every gold medal-winning athlete, while team category golds earned $10,000. Their coaches received $1,000 and the NOCC earned $1,000 for every gold medal.
A total of 63 medals was won by Cambodia to finish in 8th place among the 11 competing countries that took part in the 2021 Vietnam SEA Games. In detail, the Cambodian delegation brought back nine gold, 13 silver and 41 bronze medals, which represents its biggest-ever medal haul in the regional sports competition.
Cambodia won gold medals in nine categories: Kickboxing 57kg, petanque mixed doubles & women's triple, taekwondo male U74kg, vovinam female multiple weapons, vovinam men's 65kg, vovinam male couple weapon, wrestling men's 125kg, and muay thai men's 63.5kg.
The previous record for Cambodia was a 51-medal haul in the 1971 Games (then known as the Southeast Asian Peninsular Games) in Kuala Lumpur, Malaysia.
The Kingdom also topped the medal count from the 2019 SEA Games in the Philippines, where Cambodian athletes bagged a total of 46 medals, including four gold, six silver and 36 bronze medals.
Tourism Minister and NOCC President Thong Khon, NOCC Secretary-General Vath Chamroeun and NagaWorld Managing Director Pern Chen presided over the ceremony.
In his message, Pern Chen said the event celebrates the achievements of Cambodian athletes during the recent SEA Games.
The 2021 Vietnam SEA Games, which was delayed several times due to the Covid-19 pandemic, was held from May 12 to 23, 2022.
"We are all extremely excited at the prospect of Cambodia hosting the SEA Games for the first-time next year, and this latest gold medal haul gives us the best confidence that our sports teams and the NOCC are on the right track to making it a supreme success," Thong Khon said.
"We want to thank NagaWorld for the longstanding support that has allowed remarkable improvements in results at international competitions and contributed to the achievements this year," he added.
In 2019, NagaWorld handed over $36,000 to Cambodian gold medalists under the same program.
NagaWorld said it will continue to support the development and profile-raising of sports in Cambodia with various community programs conducted by the company's Corporate Social Responsibility arm, NagaWorld Kind Hearts.
It was also noted that NagaWorld has also provided direct sponsorship to national teams and organizations in football, tennis, kickboxing, rugby, volleyball, and mixed martial arts, among others.
"These endorsements have encouraged participation at both regional and national levels, leading the path towards future triumphs in the sports arena for the Kingdom's star athletes," NagaWorld said.
Related Articles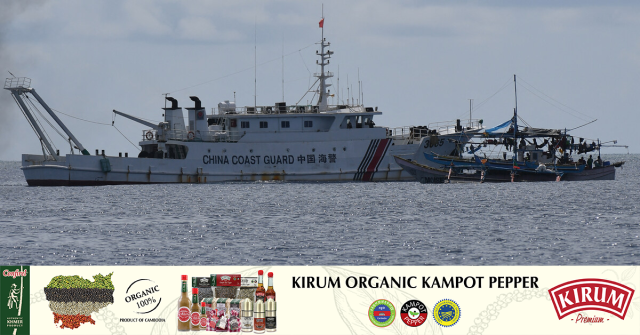 October 23, 2023 10:50 AM
December 17, 2022 6:00 PM