Don't Use State Property for Party Interests: Sar Kheng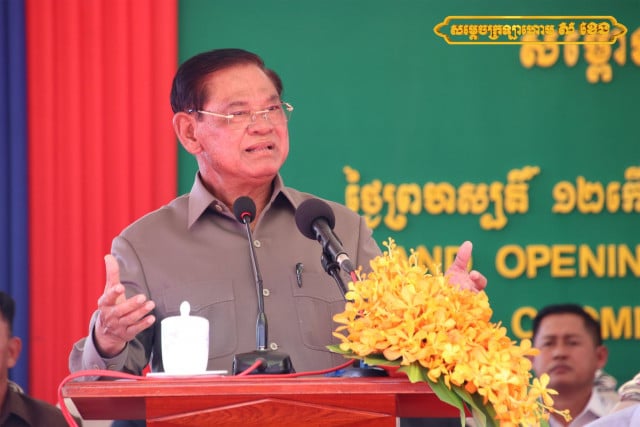 Public servants told to stick to the law
PHNOM PENH–Interior Minister Sar Kheng has told public officials they must not use state property or working hours to serve party interests.
"Each political party members, regardless of their affiliations, tries to win but make sure it is not violating the laws," Kheng said during the inauguration of CP Cambodia Food Factory in Kampot province on May 12.
"For example, the use of public means, public locations as well as using working hours for political campaigns. We need to respect the laws, not violate them."
Kheng said party members are responsible for their own political parties. He cited Prime Minister Hun Sen's advice that party members have a role in helping win elections but as civil servants, they need to ensure a successful election.
This meant the absence of violence and being free and fair as well as transparent in accordance with the law and regulations.
"Don't forget that we are citizens of the country, and we must protect and put national interests first," Kheng added.
Cambodia is set to hold the 5th mandate commune election on June 5, with 17 parties taking part.
The minister repeated his call for authorities to facilitate the elections so that they can be successful.
"Holding a successful election confers our nation's fame and prestige and also promotes our national image. This is the pride of our nation in upholding the multiparty democracy," he said.
Related Articles
September 15, 2022 5:30 PM