Don't Volunteer to Fight in Ukraine: PM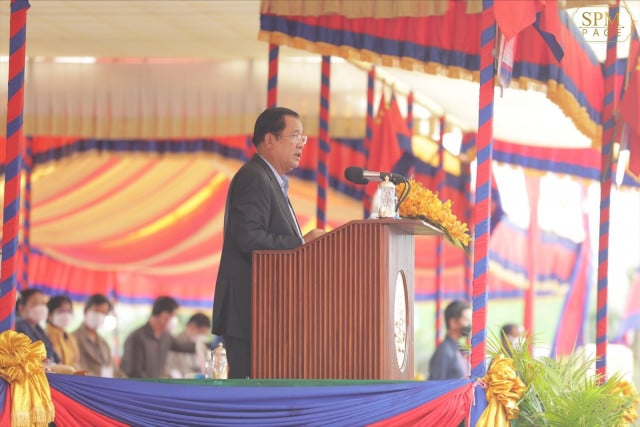 Hun Sen urges negotiated end to conflict
PHNOM PENH--Prime Minister Hun Sen says he does not support or encourage people who want to volunteer to help in the war in Ukraine.
He said Cambodians, including children, were interested in the situation in Ukraine but he would not allow them to join the army there.
Speaking during the inauguration of Cambodia-China Friendship Tbong Khmum Hospital in Thbong Khmum province, he said volunteering to help fight for Ukraine is like pouring gasoline on a fire.
"I won't allow Cambodian people to die on Ukrainian​ soil. The Cambodian Constitution bans using force outside the country except within the framework of the United Nations," he said.
He said the only way to end this war was by negotiations between Russia and Ukraine, and between Russia with NATO and the European Union.
In terms of a ceasefire, the warring parties should stay where they are, stop shooting to reduce harm to the people, then starting negotiating.
He agreed with Chinese Ambassador to Cambodia Wang Wentian that there should be talks between Ukraine and Russia to resolve bilateral disputes and separate negotiations between NATO, Europe and Russia over Russia's security concerns.
"That is the only way to make the world better," he said.
On March 2 Cambodia voted​ at the United Nations to deplore Russia's aggression and call for an end to its military operation in Ukraine. Cambodia, as the current ASEAN chair, was one of 95 countries that co-sponsored the resolution.
Related Articles