Dragon Premium Dark Beer wins two awards at Word Beer Awards 2022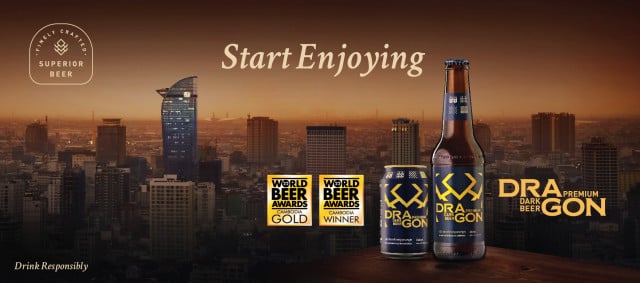 Vattanac Brewery is proud to share the joy on the occasion of the Craft Beer, Dragon Premium Dark Beer, wining two awards at the World Beer Fair 2022 for the categories of Cambodia Gold Lager Dark and Cambodia Country Winner Lager Dark from the United Kingdom. The World Beer Awards is the largest international competition designed to find talented and innovative breweries and brewers to achieve great brewing.
In 2022, more than 3,200 beer brands from more than 50 different countries around the world participated in the competition at the World Beer Awards. Each beer product has undergone a rigorous and multi-stage inspection by several international beer experts with the utmost attention to taste, quality and design before being recognized and selected as winners.


This is another proud achievement of Vattanac Brewery, where the new Dragon Beer has won both great awards from this world-class event despite its short period of time on the market. This achievement comes from the commitment, care and attention to the production of a unique beer to contribute to the national prestige and local products of Cambodia.
"We would like to share the joy and congratulations on this success with all Cambodian people," said Neak Oknha Sam Ang Vattanac, CEO of Vattanac Brewery, adding: "This success cannot be achieved without the trust of all of our valuable customers. Dragon Premium Dark Beer is a testament to Vattanac Brewery's commitment to creating the world's finest beers. Fueled by an innovative spirit, Dragon Premium Beer is paving the way for a new category of beers that celebrates savoring, enjoyment and pleasure."
Although it has only been on the market for a short period of time, Dragon Beer is very popular due to its unique, flavorful and refreshing taste with high quality ingredients and low IBU level that does not make this black beer taste sour and bitter like other black beers.

This is not the first time that Vattanac Brewery's beer products have been recognized by major international institutions. In addition to Dragon Beer, two other beers of Vattanac Brewery, Vattanac Beer and Krud Beer, also won gold medals from the prestigious MONDE SELECTION for 2022 in Brussels, Belgium, after entering the Cambodian market for more than six months, while many other beer brands that have been present on the Cambodian market for many years have won only silver medals.


Vattanac Brewery has launched official groundbreaking ceremony for its over USD 140 million brewery construction in Chbar Ampov district, Phnom Penh, in 2021. Vattanac Brewery is a proud subsidiary of Vattanac Group, a prominent group with diversified portfolio of businesses including investments in retails, real estate, industrial park, banking, golf resort, hospitality, construction material, food & beverage and education. This prominent group has always won a series of major awards from many well-known national and international institutions around the world. These awards have been given thanks to the group's core values of "Quality, Innovation, Excellent Service and Well-being" from the very beginning for all investments in Cambodia.
Related Articles