Drought Hits Farmers in Kampot and Pailin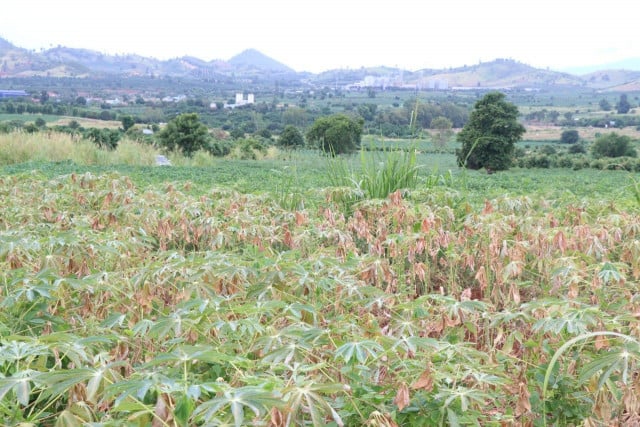 Pumping and new water channel help farmers

PHNOM PENH--A drought has hit Pailin and Kampot provinces, putting rice and cassava production at risk despite being the rainy season.

In Kampot, the authorities have pumped water to save nearly 200 hectares of rainy season rice paddy in Kampong Trach district.
Chan Rith, director of Kampot Provincial Department of Agriculture, said authorities have helped locals and there was no severe drought in the province.
"Although we experienced drought at the beginning of the rainy season, it did not affect or hinder the process of rice cultivation of our farmers," Rith said.
"It is not a big problem and it has little impact. We have used only one water pump to save rice in that area. And in other areas, there is no impact."
The provincial administration has used an excavator to help dig out a waterway to deliver water to affected areas.
He said farming is still going well and, so far, Kampot has achieved almost 80 percent of the rain-fed rice production on a total area of 133,000 hectares.
He added that people in Kampot also grow vegetables and raise animals and fish. Some people living near the coast are engaged in fishing to support their families.
He accepted that the irrigation system in the province is still limited, so farmers have to depend on the rainfall. And ninety percent of farmers choose to sow instead of transplanting to reduce labor costs.
Cassava yield declines in Pailin
The drought in Pailin, which began in late May, has affected 1,290 hectares of cassava crops.
Say Sophat, director of the provincial Agriculture Department, said drought has caused the leaves of cassava to die, which has affected the crop's growth. Many hectares of corn were also damaged.
"Pailin has been hit by drought, but it has not affected many other crops. It affects maize plants a little as most of them have already been harvested. Plus, over the past few days, there have been rainfalls so they are not affected much," Sophat said.
He said farmers in Pailin generally harvest cassava from December to January, and they could see a decline in yields.
"Although the drought might not contribute to the serious yield decline, it still affects the growth of cassava," Sophat said.
Cambodia has been one of the countries most vulnerable to climate change. Over the last few years, the weather has become increasingly unpredictable, and extreme weather events ranging from droughts to flooding have taken place more frequently.
These natural disasters have affected rice production and planting, threatening the country's fragile food security system.
Last August, many provinces, including Battambang, Banteay Meanchey, Kampong Cham, Kampong Thom, Prey Veng, and Takeo suffered severe drought. Hundreds of thousands of hectares of paddy fields were also ravaged.
Related Articles