Drowning in Debt: Cambodian Fish Farmers Fear the Worst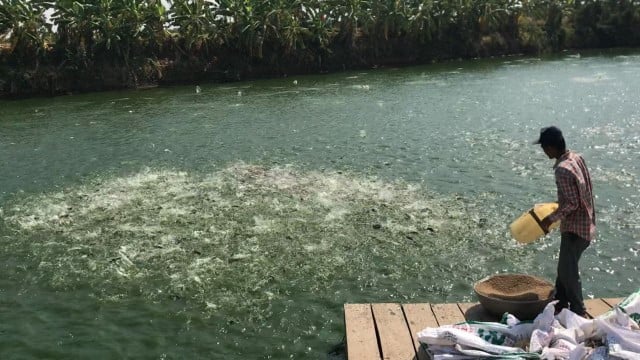 A combination of cheaper fish imported from Vietnam, growing costs and declining market demand has left Cambodia's fish farmers with little hope amid mounting debt.
PHNOM PENH--Cambodian fish farmers who grow snakehead murrels have complained of huge losses as the economic toll of the COVID-19 pandemic has decimated the market demand. Many of the fish farmers now face mounting debts after having taken out loans from a range of financial institutions to grow their businesses.
Having farmed snakehead murrels for almost seven years in Sotnikam District, Siem Reap Province, Mett Kunthea is now facing financial difficulties.
"A fresh catch from our farm is 17,000 Riels [roughly $4.20] per kilogram, but lately there's no market for them," Kunthea said. "Traders don't want to buy from local farmers when it's cheaper to import Vietnamese fish for the Cambodian market."
"I have never had market problems and losses like this year," he added.
With nearly 30 tons of snakehead murrels on his farm, Kunthea is worried that he won't be able to recoup his investment as current prices are just 10,800 Riels per kilogram—around $2.65.
"If the fish sell even for 12,000 Riels per kilogram, I make no profits," he said, noting that last year's prices dropped to around 11,500 Riels—roughly $2.80—per kilogram and, compounding the matter for Kunthea, the price of fish food rose by more than double from around $0.25 to more than $0.50 over the course of 2020.
With business looking dire, Kunthea said he is concerned about how he will repay the debts he took on to establish his fish farm. With interest piling up, Kunthea estimated that he owes nearly $10,000 to a bank and is worried that he will lose his farm if he fails to meet repayment deadlines.
A study of the economic impact of COVID-19 on Cambodia was conducted last year by Angkor Research and Future Forum, which found that Siem Reap Province had suffered the most business closures between January and June 2020, with the average household seeing a 47 percent decline in income during that period.
While the study found that debt remained relatively stable, it also found that many Cambodians were using whatever savings they had in order to pay off debts. Over the first six months of 2020, the number of households who were late in repaying a loan increased by 251 percent, the researchers said.
Kunthea is not alone in his concerns over rising debt and declining business. Tann Kochin owed a similar amount to the bank after she also took out a loan to establish a snakehead murrel fish farm.
Kachin has been in the business of fish farming for more than a decade and has seen profits fluctuate over the years, but the losses of 2020 have led to her to consider alternatives.
"For the coming year, I plan to give up this business, I've already reduced the size of my fish farm and then plan to stop farming," she said, noting that the prices simply aren't added up to profits.
"If the fish can sell for 12,000 Riels per kilogram, we are free from bankruptcy, but it is not profitable—just to be free from bankruptcy, I am happy," she added.
Chairman of the newly-formed Cambodian Aquaculture Association (CCA) Sok Raden said that debt is a common problem for Cambodian fish farmers, who he suggested are losing business to cheaper Vietnamese imports.
"For snakehead murrels shipped from Vietnam to Prek Phnov Market in Phnom Penh is less than 10,000 Riels per kilogram," he said. "No trader comes to buy our local fish. Although we try to call for help to buy all fish from our people and then import only the fish we can't produce from Vietnam, big traders always refuse to buy, they think of endless reasons."
He reiterated earlier calls to action, imploring Cambodian fish traders to support the local market—particularly with bulk orders from fish farmers.
Currently, the CCA aims to assess what local fish should be hatched and farmed in order to meet local demand, Raden said.
Recently, the Ministry of Agriculture also announced that it will conduct a feasibility study with a view to finding ways to lower the costs for local fish farmers.
Related Articles