Drug Seizures Pass 800 Kilos This Year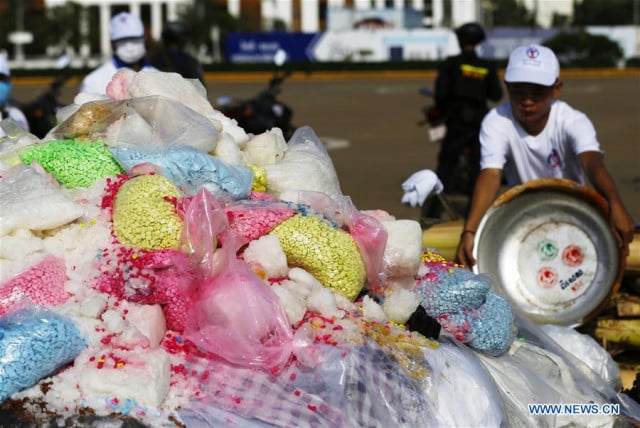 Authorities link trade to foreign masterminds
PHNOM PENH--Cambodian authorities confiscated nearly 800 kilograms of all kinds of drug in the first five months of 2021. Most cases involved international trafficking.
Mak Chito, deputy commissioner-general of the National Police in charge of drug crimes, said authorities cracked down on nearly 2,800 cases and arrested 6,369 people, including more than 360 foreigners – mostly Chinese.
These offenses were controlled by masterminds in the golden triangle where the borders of Thailand, Laos and Myanmar meet. Masterminds operate also in Cambodia, Vietnam, Thailand, China, Taiwan, Japan and Australia with the aim of trafficking drugs across the border, he said.
"Most of the foreign criminals, mainly from China (mainland and Taiwan) and Vietnam, have been involved in drug processing in increasing quantities.
"In a recent case they mixed methamphetamine (ICE) with other chemical compounds to produce to ecstasy (MDMA), with the aim of trafficking it to Vietnam," he said.
On June 1, the Anti-Drug Department said it launched an operation to crackdown on six foreign criminals for trafficking, processing, packaging, and transporting drugs across the border to Vietnam, which confiscated more than 100 kilos of drugs.
The department said that from May 28 to 30 it assigned an expert team to investigate in in Muk Kampoul district of Kandal province, and in Chbar Ampov and Boeung Keng Kang districts of Phnom Penh.
Authorities arrested six male suspects. Five were from China; Liang Li Hua, 60, Qiu Qing Wei, 60, Chen Zhi Qiang, 60, Chen Shen Tang, 57. And Li Yi, 24. One other, Nguyen Van Vinh, 35, was from Vietnam.
Authorities seized more than 94 kilos of ecstasy, nearly 43 kilos of methamphetamine and more than 10 kilos of P2P ingredients. Also seized were materials for processing and packaging, a large number of scales, two cars and two hand guns, one with 15 bullets and one with seven.
The suspects and the seized items were sent to the Kandal provincial police to prepare a case to be sent to Kandal provincial court.
Additional reporting by Lay Sopheavotey
Related Articles