Durians Unlikely to Know the Fate of Collapsed Mango Market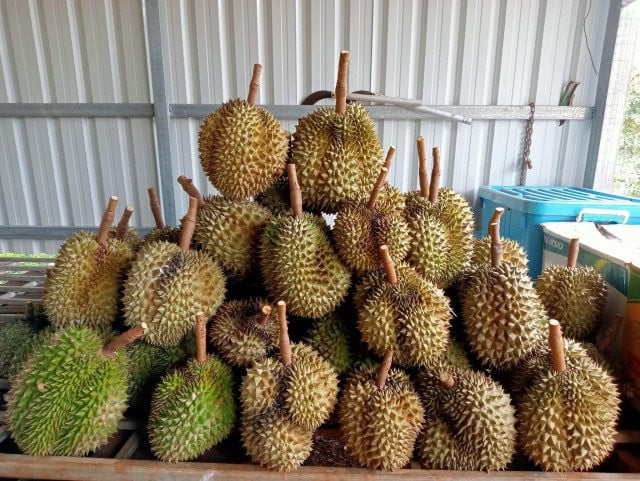 Difficult to grow, some predict the "king of the fruits" will see its prices drastically decline, while durian growers disagree
PHNOM PENH – With the increase in durian consumption in recent years, critics on social media raised concerns that the durian market might go through a downturn over the next five years, comparing it to the recent decline in the mango market.
On a Facebook post, famous online media commentator Pheng Vannak anticipated the decline of durian prices as many have started to grow the fruit around him. "Ten of my friends told me they are growing durian. If everyone grows only durian, will the future of durian be like mango?," he asked, referring to the collapse of Cambodian mango prices due to oversupply.
Comments below his post largely shared Vannak's idea.
However, local experts and durian farmers said that the durian market will likely not fall like the mango market did. Being difficult to grow, the production of the smelly fruit remains relatively low and there is no oversupply on the market.
Sim Socheat, an expert in growing durian–which he refers to as "the king of the fruits"–doesn't expect the market to collapse in the coming five to 10 years, mostly because it requires a lot of care and precise cultivation techniques to grow it correctly.
"Though there are many durian farmers, only a few are successful," Socheat said. "The Cambodian production is still too low to meet the local demand, so we have to import durians from Thailand or Vietnam. When the local production will increase, we'll consume Cambodian durians and not imported ones."
Unlike critical voices on social media, Socheat even considers the Cambodian durian could be exported overseas in the coming years, if there are more successful farmers across the country.
"Recently, a few traders contacted me to export 60 tons of durian per day," he said. "But I couldn't find enough Cambodian durian farmers to carry out the contract."
Socheat is currently starting harvesting his durians, from the end of May to the end of June. While his durians will cost between $1,200 and $1,500 per ton, he hopes he will be able to harvest more than 100 tons.
Khieu Sok Leng, another durian farmer, said that the durian market could not easily decline like the mango or other crops' markets because durians are not as abundant as mangoes can be. Therefore, scarcity drives up price.
"If you don't take care and fertilize the durian regularly, it won't bear fruit. If you abandon the plant for only a few weeks, it will be damaged. So how can such a fruit be overproduced as it happened with mangoes?," Sok Leng asked.
Earlier this year, the price of Keo Romeat mangoes, a common type in Cambodia, reduced from 500 to 150 riels per kilogram (about $0.12 to $0.04). Some growers complained that they were losing profits since fertilizer and insecticide prices had risen by 25 percent and 160 percent, respectively, in the last two years.
Last year, farmers reduced their mango harvests by nearly half due to rising fertilizer and pesticide expenditures as crop prices fell.
In the first three months of 2022, Cambodia exported 81,418 tons of fresh mangoes, down 20.73 percent from the same period in 2021. Of these, 40,849 tons were exported to Vietnam, 22,244 tonnes to China, 18,181 tons to Thailand, and over 142 tons to Korea.
With 20 years of experience, Sok Leng wants more people to grow durians, believing that the market price of durian would not fall while the demand is still high, regardless of a large number of durian producers.
"The price may go down a little with more growers, but by that time, people will consume more because it is cheaper," said the farmer who usually sells his production between 15,000 riels and 17,000 riels (roughly $3.75-$4.25) per kilogram for the wholesale price.
In Jan. 2022, Minister of Agriculture Veng Sakhon said that there was a possibility that he would encourage the exports of Cambodian durian to China, starting with the evaluation of procedural and phytosanitary requirements with the Chinese customs officials.
Related Articles