E-commerce Site Pivots to Support Farmers during Pandemic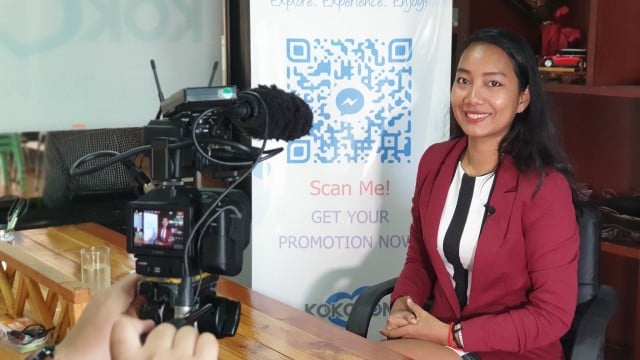 Having launched Kokopon in 2018, Neng Sokneang has switched out her discount retail goods model for one that gives a digital platform to Cambodian farmers struggling due to COVID-19
PHNOM PENH--Before the COVID-19 pandemic, Neng Sokneang launched a website called Kokopon selling discounted items from supermarkets in Phnom Penh. When the COVID-19 pandemic hit Cambodia in early 2020, Sokneang transformed the website into selling agricultural products, due to the closure of stores and supermarkets in Phnom Penh. The transformation was successful and has helped about 100 farming families.
Adaptation and flexibility have made Sokneang successful in her career. The website selling clothes, shoes, and daily necessities, which was launched in late December 2018, has been transformed into a website promoting about 500 agricultural products since the COVID-19 outbreak began.
Now Sokneang has pivoted to giving farmers a digital platform through which to sell vegetables, fruits, honey, pepper, and many other Cambodian agricultural products.
She recalled that Kokopon had no more products to put on sale when many retailers were ordered to close due to the outbreak of COVID-19. Coincidentally, she continued, some farmers and business partners told her about the loss of market they faced amid the pandemic, which prompted her to change course.
"Hearing these complaints, we started to think that we just needed to change the target market and use the technology we already have to help them [farmers]," Sokneang said.
Since then, Sokneang has become a trader selling agricultural products online. However, an online business requires Sokneang, who studied website coding from the Faculty of Computer Science, to adapt her existing systems to the needs of the agricultural sector.
"When it comes to technology, I know what to do and how to do it," Sokneang said. "But when it comes to marketing, sales, taxation, contracting, and so on, it's all zero experience for me."
Due to her willingness to promote Cambodian products and alleviate the difficulties of farmers, Sokneang decided to take short courses on entrepreneurship.
During her first year in business, Sokneang, in addition to managing the company, devoted her time to learning. She said she was committed to using technology to expand the online markets for Cambodian products.
"To make Cambodian products famous and supported both domestically and internationally, technology should be used as it is convenient, fast, and low cost," Sokneang said. "Those are the reasons I choose e-commerce to promote Cambodian products to people who have confidence in Cambodian products and farmers."
Sokneang noted that the use of digital systems began to gain momentum among Cambodians in recent years. She said she was optimistic for the use of technology in local businesses and hopes it will increase in prevalence in the near future.
Additional reporting by Teng Yalirozy
Related Articles