Earth Day and a Partnership to Protect Cambodia's Natural Treasures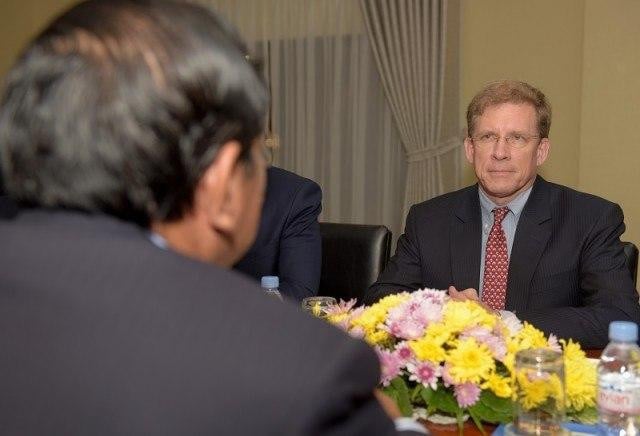 Today is the 50th anniversary of Earth Day, an annual event celebrated around the world to demonstrate support for environmental protection. 

On the very first Earth Day on April 22, 1970, millions of Americans participated in rallies across the United States. In establishing the modern environmental movement, the founders of Earth Day successfully drew attention to unsustainable practices that were polluting our air, rivers, and lakes. I remember as a young schoolboy that inspiring first Earth Day, which for the very first time drew our collective attention to the fragility and importance of our ecosystems.

In the years following the birth of the Earth Day movement, the United States passed important legislation to protect our air, water, and endangered species. While these efforts continue, we are proud that they have evolved into a global phenomenon. Over 193 countries this year will celebrate Earth Day and recommit to human behavior change and much-needed policies that can help to ensure the sustainable use of our natural resources.    

Here in Cambodia, the United States has a long tradition of collaboration with local stakeholders to protect the country's remarkable forests, rivers, and wildlife. The United States supports ongoing projects to improve environmental laws, safeguard fisheries, end wildlife trafficking, and protect endangered species. Our partners include the Ministry of the Environment and other Royal Government of Cambodia entities, civil society, international conservation organizations, and local communities.   

Since 2008, the US Embassy, working through the Agency for International Development (USAID), has invested over $90 million to support the management of Cambodia's natural resources. These programs have contributed significantly to protecting endangered species such as Cambodia's elephants and the national bird, the Giant Ibis; reducing deforestation; and improving the livelihoods of communities in and around forests.   

Our environment partnerships played a critical role in the official designation of the Prey Lang Wildlife Sanctuary and help local communities become more involved in forest management decisions. Today, USAID funding supports conservation initiatives in Mondulkiri and in the Prey Lang extended landscape across Preah Vihear, Kratie, Kampong Thom, and Stung Treng. These programs also create jobs in economic sectors that support the environment, such as eco-tourism and sustainable agriculture.  

As Cambodia considers how best to address growing energy demands, Cambodians need to consider how different types of energy sources impact the environment. Recently, authorities suspended plans to build dams on the Mekong River, an important decision to avoid further harm to the lower Mekong fishery, protect the food security of millions of Cambodians and save unique species from extinction, such as the Irrawaddy dolphin.   

  

My hope is that Cambodia will take this opportunity to consider alternatives. The United States is a leader in clean and affordable energy; experts from the US government, world-class energy companies, and respected natural resource non-governmental organizations can assist Cambodia to realize the benefits of new technologies to protect the health of the Cambodian people and the Mekong River.    

This year, our two countries are commemorating the 70th anniversary of the establishment of diplomatic relations and dedicating each month to highlighting a special area of US-Cambodia cooperation. For example, as the world contends with a global health pandemic, in May we will highlight US and Cambodian work to achieve significant success in tackling infectious diseases.

And for this month, we are focusing all of April on the environment, where bilateral collaboration is preserving Cambodia's natural resources for future generations. It is my hope that on the 50th anniversary of Earth Day, and on every day going forward, the United States and Cambodia can continue a partnership to develop the Kingdom sustainably while protecting its special natural treasures.    
Related Articles