Earth Day: Safeguard Our Forest and Stop Wild Meat Consumption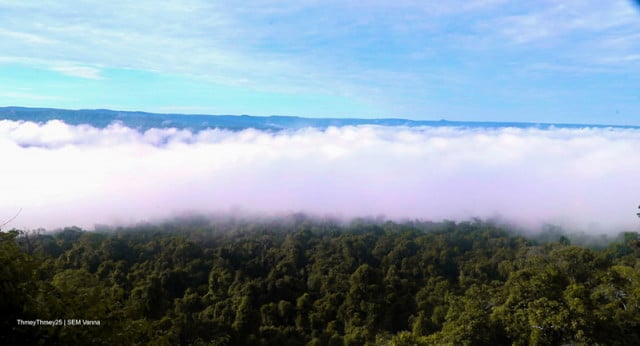 Sao Phal Niseiy
April 22, 2021 8:43 AM
We can lead by example in saving the environment

This year, Cambodians are celebrating Earth Day under lockdown as the country has been hit hard by COVID-19 surges over the past two months. There appears to be no sign of a slowdown in infections, and people have started to become depressed and distressed as uncertainty lingers.
Despite all these challenges, the spirit and eagerness to celebrate Earth Day and calls for more action remain high among people concerned about the environment.

This year's theme is timely and important: "Restore Our Earth". As the world faces more disheartening times with the pandemic far from over, we also have a responsibility to reflect on our enduring exploitation of Planet Earth for our personal sakes.

We, of course, are the ones who must do more to help our Earth heal and to make sure we can do our part to restore the degraded environment.

As a developing country with a weak or fragile governing system, Cambodia has been experiencing many debacles when it comes to handling and managing its own natural resources.

The most dire and critical challenge our country has faced is forest continually being cut down over the past decades while wild animal poaching is rampant. Any slowness in action will cost Cambodia its sustainable future and all Cambodians will have to pay the huge price.

The rapid loss of forest – critical habitat for wild animals – has been a grave concern among not only environmentalists but also the public. According to the Ministry of Environment, Cambodia has maintained 46.86 percent of forest cover across the country, which amounts to 8.5 million hectares – 41 percent of which has been designated as protected areas such as national parks, biodiversity conservation corridor and wildlife sanctuaries.
However, the country's protected forests are still under attack and the rate of forest cover loss has been alarming. According to Global Forest Watch, Cambodia lost around 2.4 million hectares of tree cover between 2001 and 2020, and Prey Lang, one of the prominent protected forests, was found to have lost up to 102,436 hectares of forest over the past two decades, according to a report from Ecology Program of Jesuit Service Cambodia and the Cambodian Youth Network.
Forest not only plays its part as animal habitat but is also important as the lungs of the Earth. If well protected, it functions in sequestering carbon dioxide, which is the main driving force of the climate crisis the world is desperately racing against time to address.
In Cambodia, deforestation is mainly caused by illegal logging and land encroachment on protected forests for real estate development. This is allowed to take place due to loopholes in governance, rampant corruption among officials as well as the shortage of forest rangers, and ineffective legal enforcement.
The most concerning thing is that during the pandemic, forest loss could become even more rapid as efforts to protect the forest and law enforcement have been significantly undermined.
The Environment Ministry also recognized that given the large swaths of forest in the country, the current 1200 forest rangers is insufficient. This requires more support and cooperation from other stakeholders.
So, what can we as citizens do to help? It might be hard to give a proper answer but I believe we all can do our part and make a small contribution. Joining a fight against deforestation necessitates a behavior change among our citizens.


In terms of behavior change, we also need to work on cultivating aspirations and affection among our people for the environment, especially trees. We can encourage tree-planting activities while fostering forest tourism.
I have seen this activity growing and this has already had positive impacts on our forest communities in many parts of the country, contributing significantly to community-based forest conservation.
But this doesn't stop there as we need to think of a more creative approach to ensure that the work can be expanded throughout the country and be long-lasting. These communities are not only depending on forest resources, but they have also been collaboratively working with the authorities.
We also can work on emboldening a more open and general discussion of the benefits of maintaining forests. This is a good start to help more people learn about the topic, and this will let them find out more about the issues that matter to their lives. Once they are aware and knowledgeable enough, they will act accordingly, becoming more considerate and responsible citizens.
Then, there will be a time when they can carry out their duty underwriting environmental conservation efforts and participate in watchdog policies to make environmental management more transparent, accountable and effective.
I think the media can have an essential role as it can highlight people in communities who have dedicated their lives to forest conservation. Furthermore, effective and inspired work carried out by communities in maintaining and safeguarding their own forests should also be promoted to make it known and as something other communities can learn from.
Another issue on which we can work together as concerned citizens is prevalent wild animal poaching. According to the World Wildlife Fund, the major threat to wild animals in Cambodia is snaring. Up to 234,291 snares were removed in five protected areas between 2010 and 2019.
When it comes to wild animal poaching and trading, we have to acknowledge that it has mainly been driven by our behavior. Many people have the urge to consume wild animal meat in the belief that that has medicinal benefits. Sometimes they have the misconception that eating wild animal meat demonstrates a family's prestige and wealth as they are affluent enough to afford the expensive food.
But this unacceptable behavior needs to be adjusted gradually and ultimately stopped. I think this only can happen when we all join hands and work together as one. While the authorities and other stakeholders have the main responsibility to enforce laws against poachers and traders, it first and foremost needs ordinary people to guarantee an enduring education campaign to raise awareness on the bushmeat trade.
It is also critical that we all dare to speak up against the consumption of wild animals among our friends and family members. People are just normal biological creatures, meaning they can be senseless and irrational, and of course, they make mistakes, misunderstand, and disbelieve at some point in their lives.
That is why we, who have more knowledge and who can think better, have a duty to take the lead and explain to them as much as we can. By doing so, we will ultimately discourage this consumption while inspiring people to put an end to wildlife market demand.
Earth Day is not only confined to these challenges.
Cambodia is one of the countries most vulnerable to climate disasters. It has already experienced more frequent intense floods and droughts as well as many extreme climate events. Therefore, stepping up our action to tackle the climate crisis is vital for a small nation like Cambodia.
The climate crisis is more of a transboundary and global issue, which demands global solutions. But pause and think. Every type of destruction our planet faces begins with our actions. Let's filter out our pessimism and alter our actions because we still have time to do better.
As a part of our contribution, we should reduce our daily carbon footprint through a change in our energy consumption and generation and our way of transportation. We learn that the world suffers more from pollution emitted from energy sources and transport.
I want to see the transition to clean energy expedited, with its further investment and integration into our energy grid. In our country particularly, we have been cozying up with injecting more investments into environmentally damaging or unsustainable ways of generating electricity like hydroelectric dams and coal-fired power plants, known as the most polluting way of generating energy.
It is undeniable that we all need electricity to spur our development and to cope with a dramatic surge in power demands, but it shouldn't automatically translate that we have to pick a cheap solution. Long-term impacts will be unbearably perilous and we all have to pay the price for bad policies. What is the point of having electricity to the detriment of the environment and if we all becoming unhealthy and have our lives disrupted by more intense natural disasters?
Additionally, the means of transportation should be transformed. We can't completely ban fuel-combustion vehicles, but we can inspire people to travel less and shift to biking and walking as we have been discussing for a long time. All of this can be influenced by example, as when many people act, others tend to follow suit.
Additional regulations are needed to increase incentives to people to reduce using personal vehicles and to use more environmentally-friendly electric vehicles. We have seen this growing but a faster pace is needed, and it can only become reality when we all become fully aware and take part proactively.
You can pick from any of these ideas. There is no one-size-fits-all solution to restoring our environment and there is no miracle that we alone can make everything better. But we together can eventually make a difference if we act now. Together, we can make every day our Earth Day, and together we can help our Planet Earth heal again.
Related Articles