ECAM LaSalle Earns Sustainable Development and Social Responsibility Accreditation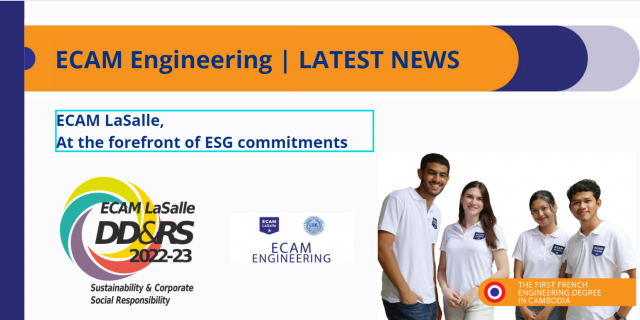 ● French #2 private Engineering graduate School ECAM LaSalle has received the highly sought DD&RS label which recognizes the French higher education establishments with Sustainable Development & Social Responsibility policies at the core of their educational approach.
● With this accreditation, the school continues to fulfill its vision to educate the next generations of engineers around the world to sustainable development, in which the recently launched ECAM Engineering curriculum in Cambodia in tandem with ITC is an important milestone.
● The 3-year curriculum is currently hosting 16 international students in the first year (40 after) and delivers a dual diploma ECAM Engineering + Master's from ITC.
ECAM LaSalle, who recently launched the Double Master Degree "ECAM Engineering" in Cambodia with ITC, is proud to announce the highly sought DD/RS label (Sustainable Development & Social Responsibility) was granted to the school last December 2021 in France.
Intended for higher education establishments in France, the DD&RS Label covers the 17 sustainable development goals defined by the United Nations, from strategy and governance, education and training, research and innovation to environment and social policy.
"So far, out of the 300 higher education establishments in France, only 30 have succeeded in obtaining this label.
This accreditation is a great achievement for our school and teams, but more importantly a commitment and a responsibility to fulfill every day our vision to be an active player in the ecological transition through educating the next generations of engineers around the world to sustainable development. The launch in late 2021 of "ECAM Engineering", the first Master's degree in sustainable manufacturing Engineering in Cambodia is a milestone in this journey," said Didier DESPLANCHE, Director of ECAM LaSalle
Delphine ALAINE, DD/RS program manager and Thomas TOURET teacher-researcher & DD/RS manager for the Research Department said: "Obtaining the DDRS Label (certification for sustainable development) isn't the only objective of the process that was initiated. It is above all a formidable tool to improve our processes and help us move forward into integrating the Sustainable development goals in our strategy and operations. I'm convinced that, in the following months, we will get the full benefits of this Label in our day-to-day operations."
"The availability of well-trained professionals who truly believe and understand ESG issues, and notably sustainability is critical for Cambodia and companies operating in the Kingdom like ours. LEGRAND Cambodia has been a corporate partner with ECAM Engineering since they launched in Phnom Penh. This DD/RS certification is an important mark that really indicates the level of commitment to sustainability from the school. Sharing the same values and commitment to a greener future is a great source of satisfaction for us," said Kovi VALOO, Country manager of LEGRAND.
Preparing the next gens to Industry 4.0 sustainable issues
The ECAM Engineering Curriculum is particularly designed to address developing markets confronted with increased industrial production that must comply with sustainable development requirements. This master aims to meet the needs of Industry 4.0 in Cambodia and South-East Asia by training students to incorporate digital technology into the manufacturing and logistics management processes based on a circular economy approach with minimal environmental and social impact.
"This new master will anticipate the need for high-level engineers and executives, able to lead the manufacturing sector towards the 4th Industrial Revolution with a special focus on preserving resources of the Kingdom." Victor VITHY, Managing Director, DBD Engineering
More about ECAM ENGINEERING
This curriculum is the first French Engineering Degree in Cambodia with a "French Grande Ecole" DNA. This program is based on the combined expertise from 2 reputed higher education institutions: ECAM LaSalle and Institut de Technologie du Cambodge (ITC - the main engineering university in Cambodia).
Starting October 2021, this 3-year program delivers a Double Master Degree ECAM Engineering Master + Master's from ITC in Industrial Engineering & Supply Chain management, Robotics & Automation Engineering.
Entirely taught in English, Cambodian students will also have the opportunity to learn French to obtain a B2 level at the end of the program. ITC will be Cambodia's first school to offer a French degree within the national territory, making it more appealing to both Cambodian students and those from neighboring countries.
The program has enrolled a cohort of 16 international students the first year (12 from Cambodia, 3 from France, 1 from Egypt), and will host 40 new students for the year to follow.
To know more about the curriculum and enroll : https://phnompenh.ecamengineering.com/
About ECAM LaSalle
Founded in 1900, ECAM LaSalle is recognized as one of the finest Graduate Engineering Schools in France (ranked 2nd private engineering school in 2020 by L'Etudiant). The school is part of the Grandes Ecoles curriculum.
Its program offers candidates the opportunity to graduate in five years with a dual degree: Mechanical and Electrical Engineering degree and an MSc from a partner university in the student's chosen field of specialization. Enrolled students benefit from teams of professor-researchers covering all engineering sciences, a cross-educational research laboratory, a branch offering expertises and continuing education for companies, as well as an incubator for start-ups with strong technological potential.
● 7500 Alumni
● 1,900 students
More about ECAM Lasalle: https://www.ecam.fr
About DD/RS label
The labeling system, known as Label DD/RS – Sustainable Development and Social Responsibility – for higher education was created in 2015 in France. It is the result of the collective work of a dozen universities and Grandes Ecoles, the Conférence des Grandes Schools (CGE), the Conference of University Presidents (CPU), the Ministry in charge of sustainable development, the Ministry in charge of higher education and the Network of Students for an Ecological and United Society (RESES).
It makes it possible to promote nationally and internationally the sustainable development and social responsibility approaches of French higher education and research establishments. It also allows establishments to build skills within a group of committed establishments through their participation in the labeling committee and in the audits of candidate establishments.
The DD/RS Label is based on a common national reference system that has existed since 2009 following article 55 from the Grenelle 1 on the environment – the DD/RS CPU CGE reference system.
It is a Label that wants to be systemic.
More about the Label : https://www.label-ddrs.org/
CONTACT
Ms Sopheap HANG | Administrative & academic assistance
ECAM Engineering Program at Institute of Technology of Cambodia
+855 (0) 92 282 741
Related Articles