Education Ministry Greenlights Reopening of 20 Private Schools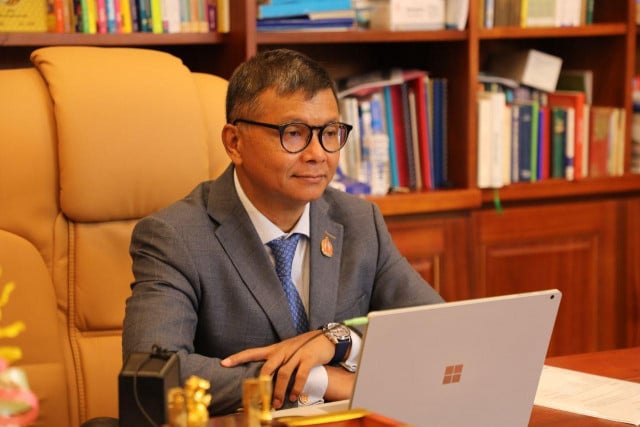 Phoung Vantha
July 22, 2020 4:21 AM
Following four months of school closures nationwide, the Ministry of Education has granted 20 private schools permission to reopen in August 2020.

PHNOM PENH--The Cambodian government on Tuesday (July 22) agreed with the Education Ministry to reopen 20 private schools for the first phase of getting students back into classrooms. The 20 private schools who have been given permission to reopen are located in Phnom Penh, Siem Reap and Battambang and are expected to welcome students back in August 2020, according to a letter from the Council of Ministers dated July 21.

Those 20 private schools must follow the Ministry of Education's instructions and guidelines laid out by the Ministry of Health and the World Health Organization (WHO).

Education Ministry spokesman Ros Soveacha said that those schools had been directly inspected by Education Minister Hang Chuon Naron, who has approved their high safety standards. Soveacha declined to comment when asked why private schools were reopening first.

The Ministry of Education could not provide an exact date for when the 20 schools will reopen, or when the rest of Cambodia's education system can return to normal.

Fears of the Coronavirus Disease 2019 (COVID-19) pandemic led to nationwide school closures on March 16, 2020, but a contingent of teachers—out of work and concerned for the education of their students—have been demanding the government reopens schools soon, citing problems with the Education Ministry's e-learning programs.

Once open, the 20 approved private schools must adhere to hygiene measures by keeping the school environment clean, especially classrooms, in order to keep students safe. The ministry stated that schools would be disinfected, but did not state how regularly this would be done.

Teachers will be scanned before entering the classroom, although the ministry did not detail what kind of scan would be applied. Experts have warned in the past that thermal scanning and temperature checks are often unable to detect the virus.

Any school that fails to comply with the ministry's guidelines will be issued a warning letter and will be temporarily suspended, Soveacha added.

This marks the beginning of phase one for reopening the nation's schools, explained Soveacha. If successful, the ministry will assess the feasibility of phases two and three.

The ministry plans to implement the reopening of all schools in three phases, phase one will be the reopening of schools with the highest safety standards; the second one, schools with average safety standards; and the third one, schools with minimum safety standards.

The Ministry of Education will closely monitor the first phase and will continue to plan for the future according to the program prepared by the ministry and all stakeholders, he added.


Related Articles