Education NGO Reaches Out to Deprived Children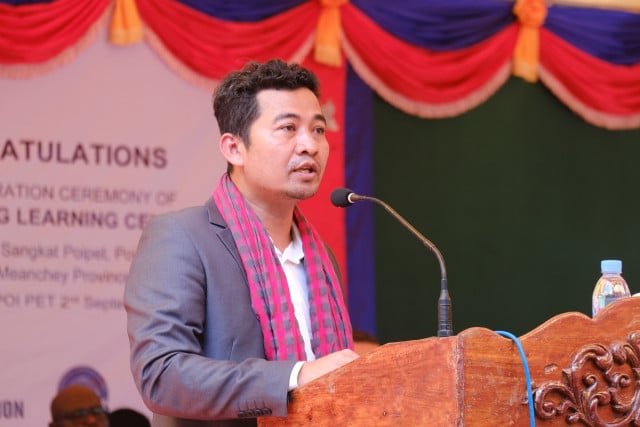 BANTEAY MEANCHEY– NGO Action Education aims to help 110,000 out-of-school children integrate into mainstream education by 2025.
Vorn Samphors, country director of Aide et Action (Action Education) in Cambodia, said about 250,000 children were missing out on school.
They included those living on the streets, in the slums of the Tonle Sap, homeless children, migrant children or children being trafficked or exploited for labor, and ethnic minorities, especially girls.
Action Education intends to help at least the 110,000 children under joint projects with national and international organizations with a budget of more than $40 million.
"We mobilize nearly 30 national and international organizations to jointly carry out the mission," Samphors said. His organization has contributed nearly $20 million to the project in more than 2,000 schools in 800 communes across the country.
He added that 10 to 15 children will be helped to get an education in each of the schools over four years.
In the first semester of 2022, Action Education has provided 528 schools with funding and study materials to help poor children get an education.
"We think we will be able to work with the Ministry of Education and all stakeholders to have classrooms, teachers, learning materials and methods for all those disadvantaged children," Samphors told Thmey Thmey after the Lifelong Learning Centre inauguration for Poipet branch in Banteay Meanchey on September 2.
Damnok Toek Organization's school is one of the schools supported by Action Education to educate homeless children, drug addicts and child victims in Banteay Meanchey province.
Organization executive director Long Sanrithy said Action Education will help more than 1,200 out-of-school children in Banteay Meanchey get the same access to education as other children for the next four years.
"At the moment, our project implementation has included 543 children, which is 43 percent of the total target of 1,260 out-of-school children," Rithy said.
Nos Sles, Secretary of State of the Ministry of Education, said the ministry has a Non-Formal Education Department to help children who do not have the opportunity to study and train to get all kinds of education as much as possible.
"Some children receive on-site training according to their level of education or the organization's educational program, while some children are able to pursue higher education," Sles said.
"This is one of our joint efforts with the government. The government has strived to promote all these mechanisms in collaboration with the community authorities and relevant ministries to help child victims and dropouts to get re-education."
The Socio-Economic Survey 2019-2020 shows the Cambodian literacy rate from the age of 15 to 87 was 87.8 percent in 2020, up from 77.6 percent in 2008. In urban areas, the adult literacy rate increased to 93.3 percent compared with 83.8 percent in rural areas.
The General Population Census of Cambodia 2019, issued in 2021, depicted the educational enrollment rate for children from age 6 to 11 at 91.6 percent for boys and girls. However, the rate dropped slightly for boys in the 12 to 14 age groups.
About 3.5 million students nationwide enrolled in the 2020-2021 school year, of which about 49 percent were girls, the ministry reported.
Sept. 8 marks the 22nd celebration of National Literacy Day. It is celebrated every year to raise awareness about the importance of literacy and non-formal education programs to enhance the ability of all citizens to pursue their studies and get professional skills.
Moro Kort Kheav contributed to this story.
Related Articles