Eight Dead from Alcohol Poisoning in Kampong Chhnang Province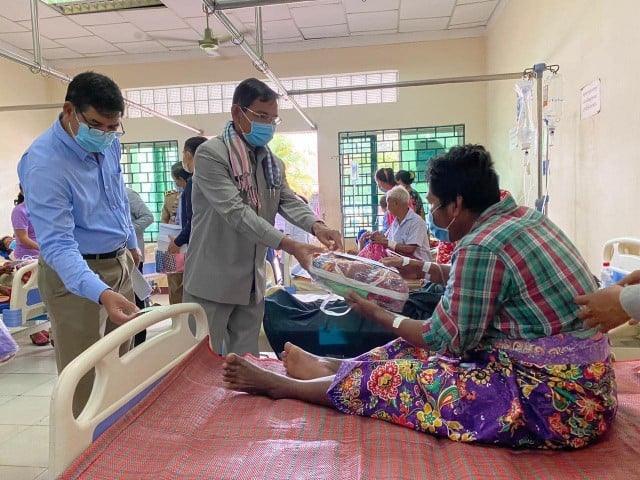 More than 100 people were hospitalized after drinking wine that authorities believe was produced with a high methanol content.
PHNOM PENH--The death toll from suspected alcohol poisoning has, as of Dec. 1, risen to eight, with more than 100 people hospitalized, according to Kampong Chhnang provincial health officials.
The director of the Kampong Chhnang Provincial Health Department Prak Von said that 117 of the 131 patients have since returned home following a few days of medical treatment.
He said that those who have not yet recovered are being treated at the Provincial Referral Hospital, but some have been referred to the Khmer-Soviet Friendship Hospital due to the serious nature of their condition.
"We do not know the source of the wine yet," Von stated. "But we have targeted some wine sellers who sell high methanol concentrates, they've been detained by police and will be sent to court, but the wine has been confiscated."
He said that the fatal cases of alcohol poisoning were caused by wine produced with high methanol content.
To avoid fatal cases of wine poisoning, Kampong Chhnang's provincial governor has instructed residents to temporarily stop selling and drinking all wine of unknown origins, he added.
Von confirmed that the widespread case of alcohol poisoning resulted from drinking at a funeral that was being held for a woman who, herself, had been poisoned after drinking from a contaminated well on Nov. 28. The wine consumed at her funeral has so far led to eight deaths.
On Nov. 27 two women were killed and 12 people were hospitalized after drinking water from a well near a watermelon plantation in Chi Prang Village, Chiep Commune, Teuk Phos District, Kampong Chhnang Province.
Earlier this year in June, six people died and a further 40 were hospitalized in Banteay Meanchey Province after drinking a wine by the brand name "Tang Kouy."
Related Articles