Elephant Terrace Serves its Purpose Centuries Later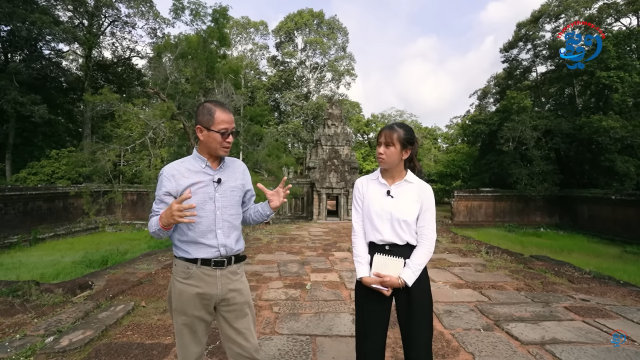 SIEM REAP – Once a thriving capital of administrative, religious and geopolitical power, Angkor freezes time for observers to witness what a city would look like more than a thousand years earlier.
With thousands of remaining structures and countless other remnants hidden deep from public gaze, the city of Angkor was a modern metropolis of its time.
Within a confined almost square-shape compound called Angkor Thom city, an elongated terrace, or simply a platform, which elaborately rises above ground stands out from other surrounding structures with its eye-catching sculptures of mythical beings and elephants.
So, what kind of activities did this location serve?
Im Sokrithy, a senior archaeologist and historian of the APSARA National Authority, went to the site to explain its function.
Standing in the middle, this crucifix section is flanked by two other sections.
Being at the centre, higher and more important, the cruciform leads the way to a former royal palace as well as an ancient road.
The terrace used to be equipped throughout its length with wooden structures with tiled roofs.
"All of this is a platform where the king used to reside temporarily as a delegation during events that was organised on the 80,000 square metres space at the front", Sokrithy said.
On the southern flank, the platform could be occupied by officials of the city or the country. On the northern flank, personnel from religious aspects could be hosted.
In some ways, this ancient structure also resembles that of structures in the modern royal palace in Phnom Penh.
"The events do not always have to be religious", Sokrithy continued. "They could also be administrative meetings, military meetings or just simply performances or annual celebrations."
According to a record left by a Chinese diplomat who visited the city of Angkor during the late 13th century, the king also used this place for judicial hearings twice a week since it offers a large space for many occupants, such as common people, to attend.
Looking at the platform, the central cruciform and the two flanks were ornamented with sculptures. The flanks were sculptured with images of elephants while the central section was sculptured with depiction of garudas and lions spiritually levitating the platform above ground for the king.
Despite being made for meetings, this grandiose area was also used for playing sports. One sport, polo, can be seen depicted on the wall of the terrace.
"This game was introduced perhaps when we were having diplomacy with the Mongolians or the Chinese", Sokrithy added.
This spacious area still provides tremendous benefit for Cambodian people and national event organisers during major annual celebrations such as Khmer New Year.
On April 15, the Terrace of the Elephants was used to host the largest number of madison dancers, at 4,999 participants, winning another world record for Cambodia. When not in use, the grand space contains lush cover of grass suitable for tourists to relax.
Interviewed in Khmer for ThmeyThmey News, this story was translated by Ky Chamna for Cambodianess.
Related Articles