Endangered banteng found dead in Oddar Meanchey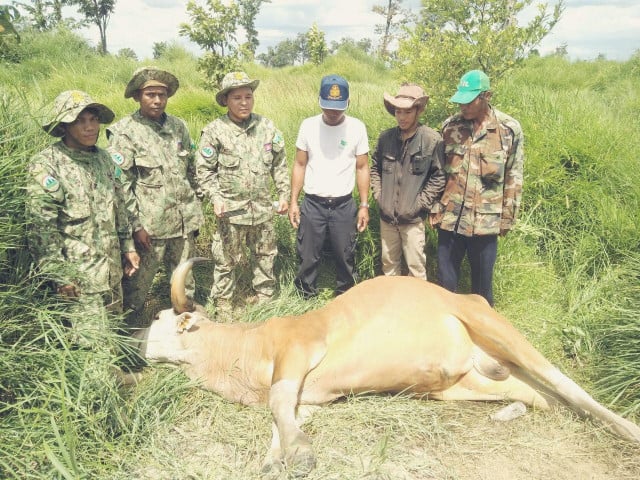 Thmey Thmey
August 11, 2019 9:44 AM
Preliminary conclusion is death from old age

PHNOM PENH -- An endangered banteng weighing around 500 kilograms has been found dead in Oddar Meanchey Province, Ministry of Environment spokesman Neth Pheaktrathis said.
"Forest guardians found the carcass of the banteng in Rokha Vorn Community Forest on Saturday," he said.
Forest guardian Monk Bun Saluth was quoted as saying that the banteng — a species of wild cattle — seemed to have died a day or two earlier.
"The banteng was a bit old and its left leg had a scar as it was damaged by a trap," the ministry spokesman said. "The preliminary conclusion is death from old age."

An endangered was found in Rokha Vorn Community Forest (Photo Ministry of Environment)
Neth Pheaktrathis said a report in 2010 showed that Cambodia had the world's largest population of banteng estimated at more than 4,000.
Despite mainly living in protected areas, banteng in Cambodia are believed to be threatened by illegal logging, mining, deforestation and illegal poaching.
In its latest global assessment in 2014, the International Union for the Conservation of Nature classified the animal as "endangered" — facing a very high risk of extinction in the wild in the near future.
According to Wildlife Alliance, around 8,000 banteng remain.
Related Articles