Ending Violence against Women: What More Can be Done?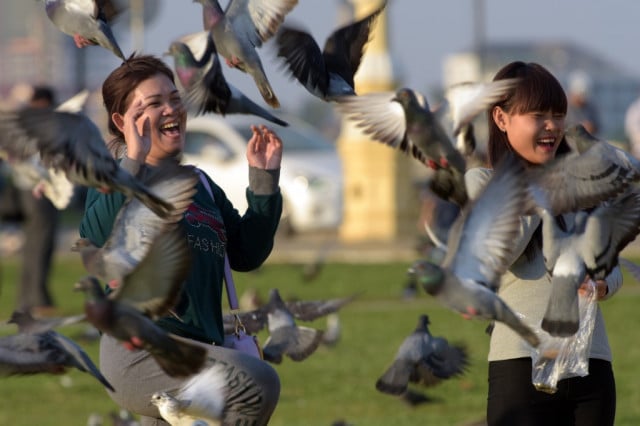 This year, I enrolled in a course on gender, violence, and development in my postgraduate studies. More than a chance to learn a lot about theories related to gender roles in violence and development, I could immerse myself deeper into an environment through which I could identify possible factors driving violence based on gender while exploring practical solutions based on the social and cultural contexts of each society, especially in Cambodia.
As the world has been running the 16-day annual campaign to advocate for actions to end violence against women, I am writing to raise some thoughts on possible measures to support efforts to end violence against women. According to the World Health Organization (WHO), violence against women has been increasing worldwide, particularly during the COVID-19 pandemic, where one in three women is a victim of physical or sexual intimate partner violence or non-partner sexual violence.
This trend is no different in Cambodia as gender-based violence has remained a serious concern. Many women have continued to experience physical and sexual violence, but unfortunately, not many of them can break the silence and seek support and intervention.
Meanwhile, it is uncommon to speak up against violent practices, even among their female fellows. At the same time, many still consider intimate violence a family issue that should be dealt with within family boundaries.
At the same time, those who suffered from sexual violence and harassments often find themselves being held accountable for the crimes of which they are victims. It can be easily understandable as it is partially due to the prevailing cultural norms and conservative social values that have remained underlying factors that shape people's perception toward gender roles and women's agency while tolerating violence against women. Moreover, the state continues to have the misconception of the underlying impacts of social norms and culture when addressing gender-based violence.
However, there has also been significant momentum with more people becoming conscious of this social issue, concurring that the problem requires proper and better interventions. They are not only amalgamating in amplifying the voice that demands the solutions to end these types of violence but also comprehending their social responsibilities in contributing to addressing these issues.
By stating this, I believe there should be more action to ensure that we can effectively address gender-based violence, making our environment more favourable and safer for women and girls. In this case, the main stakeholders are men and women, but men should have broader roles and responsibilities as they have been more inclined to carry out violence against their female partners.
As we all agree that lacking education on different critical issues ranging from women's agency to sexual consent as well as their misconception toward gender shaped by cultural norms, I, thus, would propose that preventing violence against women should centre on stimulating engagement with the male population to enable them to understand their role in addressing the problem and expand awareness-raising campaigns and training programs to foster behavioural change toward violence against women.
There are some projects regarding male population engagement that seek to vitalise male participation in the fight against gender-based violence. However, the scope of the programs remains small and needs to be scaled up to reach a larger male population in different communities. Meanwhile, the topics the male population should know more about should include under-discussed issues such as women's agency, the culture of victim blaming, women objectification, and stereotypes of masculinity.
Once more men can be actively engaged, they can broadly understand, becoming more empowered to be positive bystanders and eventually carrying out the prevention message to a broader member within their respective groups. Therefore, it can create feasibilities that the change in their perception toward gender roles, as well as victim blaming and practice of women objectification, can be nurtured, and this eventually can reduce the possibility of them committing violence against their female peers.
Nonetheless, given that this initiative can be effective, it is crucial to anticipate resistance from different male groups as their receptiveness or opposition to the messages we carry out can also vary depending on the level of education, cultural influence, and perception of sexualities. By expecting their resistance, the government and involved stakeholders can also acquire additional knowledge and understanding of how to develop different approaches better to fend off strong resistance while appealing to diverse groups of men to join the campaign.
In addition to male engagement, focusing on primary prevention of violence against women through cultivating behavioural change should begin at schools. By saying this, our education programs should focus on integrating basic yet essential knowledge on gender aspects such as gender roles, sexual consent and impacts of unrelenting normalisation of women objectification, allowing our students, both boys and girls, to gain such knowledge at a young age. Unfortunately, even though the existing education policy appears to have included primary prevention actions through increasing understanding of gender equality and non-violent relationship, it does not cover the awareness mentioned above.
Another action is expanding awareness-raising campaigns on women's agency and women objectification to the audience beyond classrooms. Although various programs have been carried out in different communities, the ability to exploit the internet space to run such programs has yet to be utilised. Ironically, we often see the practice of victim blaming, and women objectification usually occurs online. At the time being, it is worth cherishing Cambodia's efforts to carry out 16 days of activism against gender-based violence from 25 November to 10 December each year. Yet, the participation remains small, which should be further promoted, and more online campaigns that can appeal to more extensive public participation should also be created. Considering the significant portion of total social media users in the country, which exceeded 12 million out of 17 million population, according to Datareportal, pushing more incredible online campaigns will be more effective in spreading knowledge to a larger audience, boosting communication across different online communities, and eventually bolstering online activism.
Also, when it comes to the online community, there is the need to establish a favourable online environment through which public reaction or confrontation can be made, and the messages disproving any act of violence against women, as well as victim blaming and women objectification, can be spread without fear. I raise this because public reaction and confrontation with any fanatical act of victim condemning, and objectification of women can increase the ability to hold perpetrators morally or even legally responsible for their negative attitudes.
The sustainability and efficiency of the online campaigns will heavily depend upon proper financial and technical support for essential actors, such as creating online content creators who focus on disseminating and explaining issues related to knowledge of violence against women and gender issues. Meanwhile, bringing in social media celebrities, women influencers, and public figures who have been deemed role models and have more significant influences on netizens in the campaigns will be critical in achieving the target.
The public reaction can be further amplified and galvanise more echoes only when there are well-established and robust networks across different communities, especially among women. Therefore, it is crucial to support women's network establishment consisting of women members with various backgrounds who will speak on behalf of wider women communities in not only challenging the victim blaming and misogynist attitude but also defying any harmful social norms and stereotypes regarding women. This kind of network can be initiated and encouraged by the ministry of women's affairs in collaboration with critical stakeholders such as NGOs and local communities.
Finally, violence prevention should also begin at the community level through community response that seeks to establish a better and safer environment for women and girls. This solution does not concentrate on behavioural change but on forging favourable conditions in that women can pursue their agency without fearing or facing dangers such as sexual abuse.
Guarantee this success will require community members to unite and organise different initiatives in their respective communities. For example, as sexual harassments against women continue to be one of the most frequently occurring crimes in Cambodia, there should be some form of night patrolling or policing work to keep women and girl safe.
In this sense, civil society groups have a role in encouraging and helping explain the benefits of such projects in communities with hostile environments. And the government and local authorities have more power to facilitate and support the works through various forms, including financial contributions and organisational training. But this doesn't come without challenges. Such projects can face funding shortfalls, preventing the mobilisation of community volunteers from undertaking the work, especially in rural areas where government services are inadequate.
Related Articles