Enterprise Export Development Project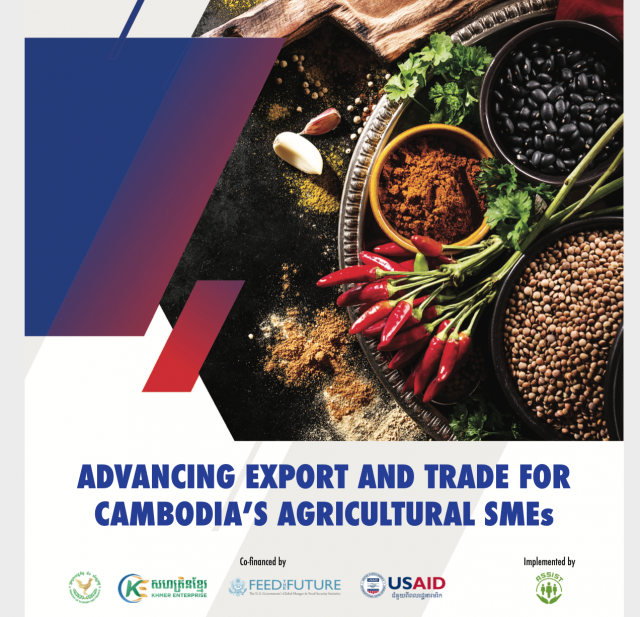 Khmer Enterprise, a unit under the Ministry of Economy and Finance, and USAID's Feed the Future Cambodia Harvest II have entered into a strategic collaboration to provide support to local small and medium-sized enterprises (SMEs).
With the same mandate to improve the agricultural sector in Cambodia, this important collaboration between KE and Harvest II aims to support SMEs by enhancing their exports of agricultural products to the international markets through the building of skills, knowledge and capabilities.
This project is funded by KE and Harvest II and implemented by the Asia Society for Social Improvement and Sustainable Transformation (ASSIST). Local SMEs will significantly benefit from the training courses, mentoring and coaching from trade experts. Courses are designed with the real needs of the SMEs and specifically focus on international trade and Incoterms, buyers' requirements, logistics, financing, trade information, support services, marketing, government incentives and trade agreements.
H.E. Dr. Chhieng Vanmunin, CEO of KE said, "In line with the Royal Government of Cambodia's policy on export diversification and the great potential of Cambodia's agriculture/agro-processing sector, this capacity upgrading project will be of critical importance and a complementary force along with the work of relevant ministries and development partners to assist SMEs on their export."
Mr. Nimish Jhaveri, Chief of Party of Harvest II said, "Our recent survey of Cambodian agriculture SMEs showed that over 70% had never received training in export development. Our program will build the capacity of Cambodia's SME exporters through a focused training and mentoring program to capture export opportunities. SME exporters who complete the initial training program will be guided by mentors in identifying potential export customers, attending trade fairs, and negotiating trade deals."
Online application is open to welcome interested SMEs who would like to explore or increase their export potentials.
Link to online registration can be found via: https://www.eedportal.org/
Related Articles