Entrepreneurship Expert Encourages to Follow Dream, Not Trend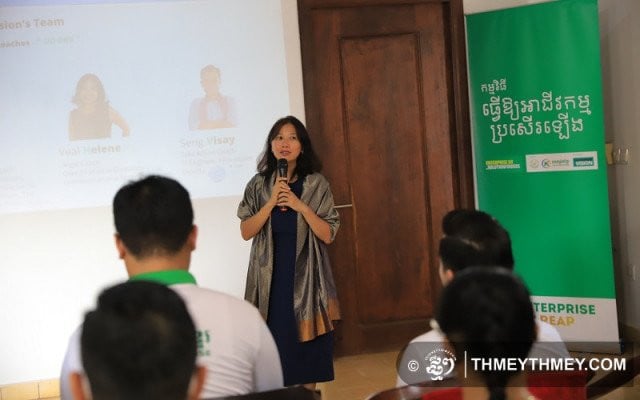 Formerly called Phum Impact, Enterprise Siem Reap supports and advises local entrepreneurs in realizing their business projects
SIEM REAP – Nowadays, running a business seems to follow trends, such as opening a new coffee shop next to another or installing a food booth a few blocks away from its direct competitor, without any proper analysis of the demand on a given market. Entrepreneurship experts think that, if people want to make their business successful, they should follow their own dreams instead of following others' concepts.
Helene Veal, the co-founder of Entreprise Siem Reap, believes that starting a business following other people's ideas is likely to fail easily. In contrast, entrepreneurs who launch a business based on what they love, listening to their own personality, will likely meet success.
"My dream is for all entrepreneurs to have their own vision, not [to run a business] because of their parents or to follow other people," Veal said on May 26, at the grand opening ceremony of Enterprise Siem Reap attended by 50 young entrepreneurs in the Kingdom's tourist capital.
The newly established business incubator is the evolution of Phum Impact, the local branch of Phnom Penh-based entrepreneurs' support organization Impact Hub, which has an extensive experience in business growth in Cambodia. Alike its predecessor, Enterprise Siem Reap offers young entrepreneurs a place where to mature and develop their business projects.
"When young entrepreneurs initiate things based on what they really are, they can do it tirelessly. Trying to learn from their business experience, continuously improving themselves and becoming experts will lead them to success. If every entrepreneur thinks this way, Cambodian brands could be famous all over the country. Do not run a business without goals," she said.
With 20 years of experience in entrepreneurship in France, Veal thinks young people should firstly work for at least two years in the field they love before being able to successfully start their own business. Additionally, entrepreneurs should be aware that launching a business does not mean earning immediate profits, indicating that it can take at least two to three years.
Nevertheless, Veal also appreciates entrepreneurs who strive to run their business smoothly and successfully, because they don't only focus on income, but also on the help and support they bring to others.
Seeing the financial hardship entrepreneurs went through during the COVID-19 crisis, especially guides and photographers within the Angkor area, Veal and her two colleagues created a program called Enterprise SR SolutionFinders, firstly implemented by Phum Impact.
Enterprise SR SolutionFinders focuses on training and finding solutions to help entrepreneurs through difficult times. For almost two years, the program has trained more than 100 young people and 15 entrepreneurs.
Seeing the entrepreneurial spirit kicking off in Siem Reap, Khmer Enterprise, an institution under the Ministry of Economy and Finance, decided to support Enterprise Siem Reap in its goal to support local entrepreneurs.
Chea Sunsatya, Head of the Entrepreneurship Development of Khmer Enterprise, said they joined Enterprise Siem Reap because they know that the city's potential for tourism, greatly affected by the COVID-19 pandemic, needs to be supported to grow again.
"We tutored the master trainers to become consultants able to improve businesses and train other entrepreneurs. Then, Khmer Enterprise let them work together because the solution finders have more experience. So, we train them first if we want to help other entrepreneurs by focusing on the skills they are able to teach many other entrepreneurs," he added.
Ang Udomlaksmey, a 20-year-old student at Paññāsāstra University of Cambodia, participated in a training program of the Enterprise SR SolutionFinders. With a growing interest in entrepreneurship, Laksmey wants to learn more about starting a business, with the pros and the cons of the entrepreneur's life.
After completing the first one-month course, Laksmey, along with 35 other friends, will continue to participate in the training and directly practice with entrepreneurs in Siem Reap province, to understand their business progress and discover their issues. They will spend four months in the program, with the guidance of the master trainers.
Related Articles