Environmentalists Released but Remain Under Court Supervision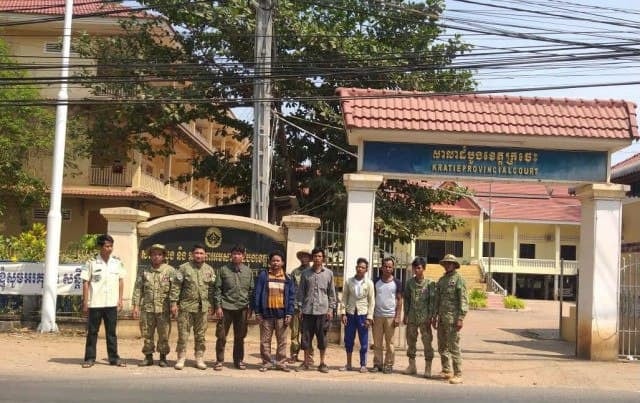 Phoung Vantha and Romdoul Chetra
February 8, 2021 8:39 AM
Award-winning environmentalist Ouch Leng was today released along with four other activists who were arrested last week after attempting to raise awareness of deforestation in Kratie Province.
PHNOM PENH--A court in Kratie Province on Feb. 8 released five environmentalists who were detained last week, but has opted to keep the five under court supervision.
Ouch Leng, president of the Cambodia Human Rights Task Force and a Goldman Environmental Prize winner, along with Heng Sros, Men Math, Heng Run and Choup Cheang were arrested on Feb. 5 in Achen Village, Sambour District, Kratie Province.
Detained by officers from the Kratie Provincial Environment Department, the five were reportedly carrying banners that read "Please help preserve our ancestral heritage forest" which they intended to display to raise awareness about the environmental degradation brought about by deforestation.
Duong Savuth, director of the Kratie Provincial Environment Department, said on Feb. 6 that the activists were arrested for entering a restricted area under the protection of the Ministry of Environment without proper authorization.
"The authorities are interrogating [them] and examining the facts," he said at the time. "[W]ait for the work to be completed: I will make an announcement."
The five conservationists were sent to Kratie Provincial Court on Feb. 7 before being released today.
Heng Sros, one of the five arrested, declined to comment on his detention, saying that he was banned from doing so by the authorities. His wife, Choub Sreynuth, said that the authorities' actions against her husband and against the other four activists was a warning to environmentalists everywhere.
Sreynuth added that, at press time, she was not aware of the conditions placed on her husband or his associates by the court.
This month's arrests were just the latest in ongoing confrontations between environmentalists and the government.
In March 2020, four environmentalists were detained and attacked by private security guards working for Think Biotech, a company that the activists suspected of engaging in illegal deforestation. Ouch Leng, Khem Soky, Srey Thei and Men Math had been monitoring suspected illegal logging in the Prey Lang area of Kratie Province when they were confronted by private security guards.
After a 2-day trial, the four environmentalists were released on March 16, 2020 with the court ordering them to register with the Ministry of Environment before engaging in any more conservation activity.
Soeng Senkaruna, an investigator with the human-rights group Adhoc, said that Leng and his team of environmentalists were ordered to stop their activities as they had still not registered with the government.
"According to their lawyer, they have signed contracts to stop their activities as they did not register their organization," he said.
Senkaruna said that the Ministry of Environment share the same goals as environmentalists when it comes to preventing illegal logging and suggested that further negotiations should take place to establish a working relationship between the authorities and the activists.
Deforestation and the ransacking of natural resources has long blighted Cambodia, with several well-connected tycoons and military personnel having been found guilty of operating vast, extractive networks related to illegal logging.
Related Articles