Epic Arts' Message to Cambodians with Disabilities: "Do Not Give Up"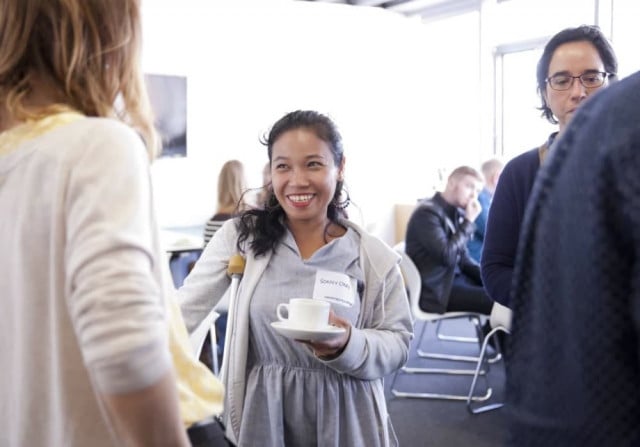 Telling her own story, Onn Sokny—country director of Epic Arts—explains how she overcame obstacles that Cambodians with disabilities face every day and offers a message of hope
PHNOM PENH--Onn Sokny, who has suffered from paraplegia since birth, overcame the barriers of her disability and rose to become country director of Epic Arts—an organization that aims to promote inclusivity through art.
She encouraged her fellow disabled people not to give up and seek the help that they need.
Born and raised in Kampong Cham Province to a middle-class family with two younger siblings, it wasn't until Sokny was 2 years old that her parents became aware of her disability, which doctors said was caused by her mother's lack of access to vaccinations prior to her pregnancy.
When Sokny was young, she didn't want to attend school as she thought she was different from other people. During her childhood in the late 1980s, there was little awareness or education regarding people with disabilities. Cambodia's emergence from the darkest period of the Khmer Rouge's genocidal rule further compounded the lack of understanding.
Despite these challenges, Sokny plucked up the courage to go to school following her father's encouragement. She was bullied, ridiculed and felt humiliated, causing her academic performance to slip.
"I attended school later than any other kids due to my disability and mental stability," she said. "I did not want to go anywhere or out of the house. However, encouraged by my parents, especially my father, I decided to go to school. My father rode a bicycle to take me to school every day. In school, I always stayed in the classroom because if students saw the way I walked, they would laugh at me and mock me for being different. I was embarrassed and could not concentrate on my studies."
The insults piled up at school and Sokny began to internalize them, believing that she had been born different and could not compare to her peers.
"They said I had done many bad deeds in my past life, which made me different from normal people," Sokny said. "So, I believed what they said about me: That I was an outcast."
She was not alone in feeling this way. As recently as 2018, the UN reported that Cambodia had the largest gap in access to education between people with and without disabilities—49 percent of Cambodians with disabilities had never attended school, the report stated. Furthermore, 57 percent of those who were able to attend school dropped out before completing lower secondary school.
Sokny overcame these issues and managed to obtain a bachelor's degree in General Management at Build Bright University in 2007. However, life in Phnom Penh as a person with disabilities posed challenges and things only got harder after her parents divorced.
"When I moved to Phnom Penh for my education, my parents separated," she said. "Therefore, I had to be responsible for my siblings in terms of survival, such as putting food on the table. This responsibility pushed me to do whatever it took, despite my disability, to feed my siblings."
Attitudes towards people with disabilities have taken a long time to change in Cambodia and recent attempts at inclusive policies have been slammed by Human Rights Watch as discriminatory and inadequate.
Even the government's own estimation that just 2 percent of the population are afflicted by a disability has been regarded as under-reporting, particularly given the World Health Organization's estimates that suggest people with disabilities make up as much as 15 percent of the global population.
The government's unwillingness to recognize and support people with disabilities reflects the wider attitude towards disabilities in general in Cambodia, making it harder to find work, earn money and become self-sufficient, let alone receive treatment. Experts have suggested that the poverty rate for households including a person with disabilities jumps to around 34 percent—almost double the 17 percent of households living in poverty without disabilities. The costs associated with caring for and treating disabilities in Cambodia sees households fall up to 7 percent below the poverty line, as opposed to 3 percent as seen in households unaffected by disabilities.
While the need to earn money at times felt like it should replace her education as the top priority, Sokny's father remained encouraging.
"He told me not to quit my education no matter how hard life was getting because I'm disabled," said Sokny. "I could not do anything that required physical strength besides getting an education. He told me I would find a better job after graduating."
Sokny's life changed drastically in 2004 when she discovered Epic Arts, a UK-registered charity operating in Cambodia. She became an assistant accountant for Epic Arts the same year.
Barriers to employment stem from a mixture of stigma, a lack of education opportunities for Cambodians with disabilities and a relatively low health literacy that permeates throughout Cambodian society. The largely informal work available in Cambodia, similarly poses a problem, with most employers not paying into any form of social protection scheme that can help support people with disabilities.
Seeing her potential, Epic Arts provided a range of opportunities to Sokny, allowing her to develop her skills further—this in turn led her to strive for positive changes for people with disabilities in Cambodia.
"My life has been made possible due to the good leaders in the organization," she said. "While I accepted the opportunity I asked for, I also had a responsibility to continue this journey and help those who are in need just like I used to be.
"However, I'm also proud of other disabled people in Cambodia who have been trying hard to better their lives as well as be a helper to other disabled. If Cambodia does not have me or other disabled people to be a voice for them, the disabled community will be forgotten."
She said Epic Arts has empowered her—she'd never in her childhood dreamed of making such an impact in her community, fearing she would always have to depend on her family.
Sokny encourages all of the disabled people in Cambodia to be brave and express what they need in the community by reaching out to the government or the organizations that are working towards disabled people's empowerment.
"Get up, go out, keep fighting, and love what you have," she said. "I urged you to change the mindset that you cannot do it and then go ask for help and find a way to nurture your dreams and for your lives. Just go and seek help through the government or the domestic and international organizations as a lot of information has been disseminated in this digital era that we're living in."
"If you don't dare to ask for help, who will help you?" she asked. "So, it starts from yourself to voice your needs, raise awareness and promote more education."
Related Articles