Epson Taps into Cambodia's Signage Printing Industry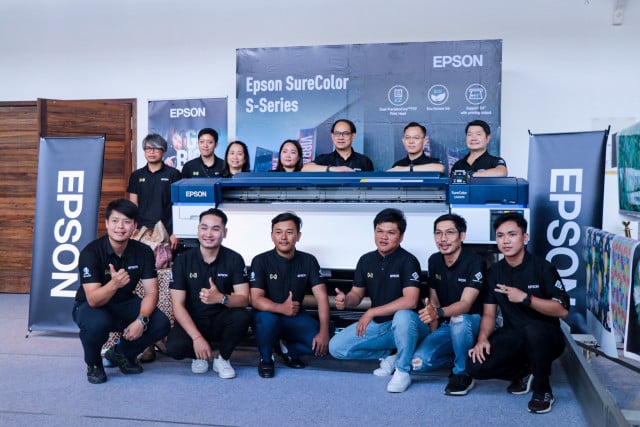 Epson, the printing-technology leader, taps into Cambodia's signage printing industry with the launch of two Epson SureColor S-Series printer models. Both present interesting alternatives to entrepeneurs.
Mr. Yunyong Muneemongkoltorn, Managing Director of Epson (Thailand) Co., Ltd., reveals that, "We would like to tap into this industry and take market share from third-party printer segment. Unbranded printers are widely used in the region because not many printer brands have actively conducted marketing activities here. Moreover, many entrepreneurs in the textile and signage industry have simply opted for no-name printers and ink in the hope of saving cost. But such choices in fact will expose them to many printer and printing problems. Printing quality is not up to standard. There is no warranty either. Our launch of Epson SureColor S-Series printers for indoor and outdoor signages aims to stimulate entrepreneurs' interest in Epson printers and ink. Our products promise to help them lower cost, increase quality and expand scope of business. When backed by Epson products, they can focus on quality printing and even made-to-order printing jobs. They can also get direct support from us (after-sales services from Epson's distributors in Cambodia). Today, Epson is the only printer brand that has offered two-year warranty for print heads and printer engine".
"Cambodia's post-Covid economy is growing. Its tourism, just like domestic consumption, rebounds. Businesses have started conducting marketing activities too. Cambodia's signage printing industry thus turns vibrant. Several operators therefore have turned to digital printers because these devices enable them to focus on quality prints in smaller volume instead of mass production," he continues.


Launched for the Cambodian market are 64-inch printers from Epson SureColor S-Series. Both models, S40670 and S80670, are perfect for signage, gift, vehicle graphics and fine art reproduction markets. S40670 works with four colors of Eco Solvent ink namely Cyan, Magenta, Yellow and Black. S80670, meanwhile, presents 10 colors namely Cyan, Magenta, Yellow, Black, Light Cyan, Light Magenta, Light Black, Orange, Red and White (Metallic Silver). Both models boast impressive printing efficiency. Their integrated Precision Dot technology minimizes banding, even at the fastest of production print speeds, just as their automatic media alignment and setup allow faster switching between media types. Automatic print head cleaning is also in place, with air circulation system keeping the print head cleaner for extended performance. They also come to the market with greater durability as they have enhanced features for the prevention of print-head damage. S80670, in particular, deploys Thin Film Piezo PrecisionCore print heads for double the speed. Such great print heads operate at lower temperature than others.


The two new printer models work with fast-drying Ultrachrome GS3 Solvent Ink, which delivers outstanding vibrancy, durability and compatibility with interiors and exteriors. Because the ink is eco-solvent, it is friendly to the environment. It is odorless and free from harmful nickel as well.
Interested entrepreneurs can explore these printer models and their quality prints between 27 February and 1 March 2023 at Factory Phnom Penh. For more information, please contact AWS Cambodia Ltd.


About Epson

Epson is a global technology leader whose philosophy of efficient, compact and precise innovation enriches lives and helps create a better world. The company is focused on solving societal issues through innovations in home and office printing, commercial and industrial printing, manufacturing, visual and lifestyle. Epson's goal is to become carbon negative and eliminate use of exhaustible underground resources such as oil and metal by 2050. Led by the Japan-based Seiko Epson Corporation, the worldwide Epson Group generates annual sales of more than JPY 1 trillion. Visit global.epson.com/ for more information.
About Epson Singapore
Since 1982, Epson has developed a strong presence across major markets in Southeast Asia and South Asia. Led by the regional headquarters Epson Singapore, Epson's business in Southeast Asia spans an extensive network of 11 countries with a comprehensive infrastructure of close to 500 service outlets, 7 Epson solution centres and 7 manufacturing facilities. epson.com.sg/
About Epson Thailand
Epson Thailand was established in Bangkok, Thailand in October 1990 with the objective of promoting the sales and marketing of Epson products in Thailand CLM Countries and Pakistan. Epson Thailand is also the sub-regional centre for Epson's operations in Myanmar, Laos, and Cambodia. Today, Epson Thailand has 132 employees, 170 Epson service centers and the extensive network of 199 authorized partners throughout the country. Its products are widely accepted as 'IT leading products' with good durability and excellent functions, especially in the category of business and corporate products including high-speed printer with PrecisionCore print head and Heat-Free technology, Epson EcoTank, and Epson laser projector with its own 3LCD technology. Epson product has not only penetrated Thai market and quickly expanded its market share, but also continuously responded to the needs of consumers. As Epson is maintaining its excellence in products and services, it also works hard to come up with new environmental-friendly innovations.


Related Articles