EU Builds Cambodia's Security Capacity Ahead of SEA Games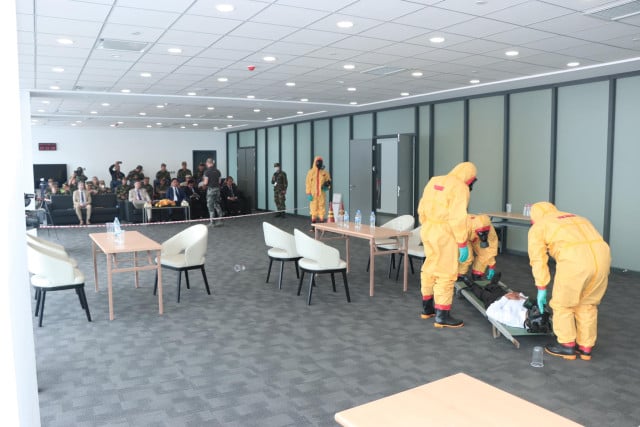 PHNOM PENH – Prevention is better than cure. While the Southeast Asian Games (SEA Games) and ASEAN Para Games will be held next month in Cambodia, the country's police and military police just concluded a months-long security exercise that aimed to boost their capacity to respond to potential chemical, biological, and radioactive and nuclear (CBRN) incidents and attacks.
Cambodia is committed to ensuring a safe and secure environment during the biennial event, that the country hosts for the first time in history, as a large number of spectators from both Cambodia and the ASEAN region are expected to come to support their respective teams.
The exercise was supported by the European Union CBRN Risk Mitigation Centres of Excellence Initiative (EU CBRN CoE) and has been ongoing for the last six months. The security training involved members from the National Authority for the Prohibition of Chemical, Nuclear, Biological, and Radiological Weapons (NACW).
With the technical support of European experts from Slovakia's International Security and Emergency Management Institute, the training helped formulate national CBRN response plans and standard operating procedures. It also provided hands-on training for the country's multi-agency CBRN Response Team, the E.U. mission in Cambodia said in a statement on April 3.
On March 31, a large-scale exercise was carried out at Morodok Techo National Stadium where the opening and closing ceremonies will be held, as well as some other sports events.
The exercise demonstrated a rapid and coordinated response between NACW front-line officers, the Police Security Department, the Police Fire Department, the National Gendarmerie, the Bodyguard Service of the Prime Minister, the Ministry of Health, the Central Security Department of the Ministry of Interior and other relevant operational units.
General Phorn Nara, NACW secretary general, and Tihamér Czika, deputy head of the European Union Delegation to Cambodia, presided over the exercise.
The 32nd SEA Games will be held on from May 5 to 17. More than 12,000 athletes from Southeast Asia countries will compete in 37 sports.
Cambodia will also host the 12th ASEAN Para Games from June 3 to 9.
Related Articles
February 28, 2023 8:55 AM