EU registration drives palm sugar prices sharply higher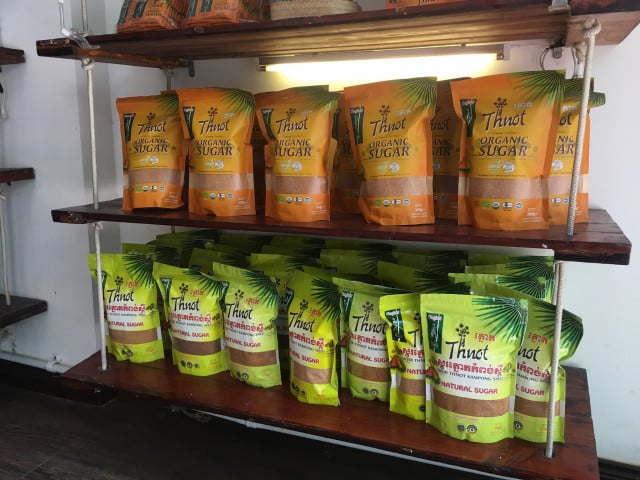 Thmey Thmey
April 30, 2019 9:53 AM
The palm sugar association in Kampong Speu Province says demand for its sugar has skyrocketed since it was registered under an EU scheme for promoting and protecting quality agricultural products. Combined with a lack of labor and drought, the price of palm sugar from the province has tripled.
Sam Saroeun, chairman of the Kampong Speu Palm Sugar Promotion Association, says demand for the product is now running at five to seven tonnes a day.
"The association can produce only one tonne a day but the market needs more after the registration," he says, referring to the protected designation of origin (PDO) and protected geographical indication (PGI) granted by the EU on April 2.
"We've had to reject some orders." The application to register Kampong Speu palm sugar — known as "score thnot" in Khmer — was made in October, 2017. Palm sugar from the province is the second Cambodian product to earn the EU distinction after Kampot pepper in 2016.
The palm sugar had already won geographical indication (GI) status in Cambodia in 2016 and received the same distinction in Thailand and Vietnam soon thereafter.
Saroeun says the association produced 100 tonnes in the first three months of 2019, with a lack of workers coupled with drought hampering production. He says the association has only 168 farmers and that more are needed to meet demand.
"The price of palm sugar tripled after it was recognised — it was sold for 2,000 riel a kilogram before and costs 6,000 riel now," the association chief says. "It's a good sign for farmers." Saroeun says the association sells its sugar to 10 companies, and that some are asking for more.
'Fuelling passions among farmers' Hay Ly Eang, president of local food and beverage producer Confirel, says the EU recognition is helping to improve quality in addition to boosting prices.
"It's fuelling passions among famers and generating more jobs in palm sugar production so farmers will benefit from their harvests," he says.
Hay Ly Eang says Confirel bought 120 tonnes of Kampong Speu palm sugar last year. Sixty percent of its refined product was exported, mainly to the EU, the US and Japan.
San Sreyneang, the company's sales and showroom supervisor, says products are marketed as organic or original with both available in Phnom Penh stores.
"Most buyers are foreigners," she says. "They've heard about the quality of our products since they're quite well-known. But "the market for palm sugar fluctuates and depends on the season."
San Sreyneang also notes that refining Kampong Speu palm sugar is costly compared with refining palm sugar from other provinces.
Op Rady, director of intellectual property at the Ministry of Commerce, says the PGI label will help protect the product from counterfeits in the EU, and build trust among international buyers.
"With PGI in place, the Cambodian government is eligible to request action against any country or individual found counterfeiting the product," he says.
By: Phoung Vantha
Related Articles