EuroCham Report Substantial Loss in Revenue Due to COVID-19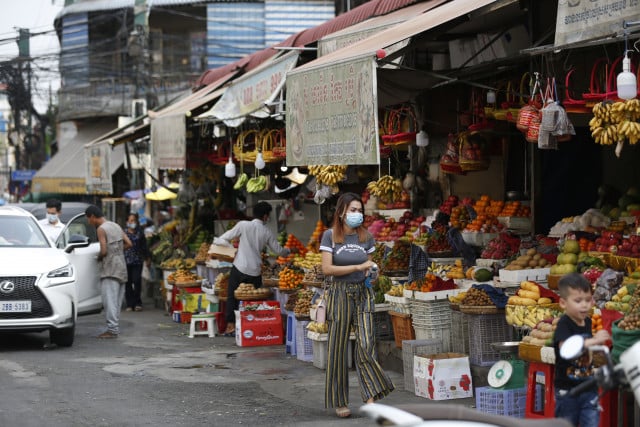 Jazmyn Himel
April 8, 2020 6:41 AM
With people actively following social distancing guidelines, businesses are struggling to survive the pandemic.
PHNOM PENH--Executive Director at the European Chamber of Commerce in Cambodia, Blaise Kilian stated that 80 percent of EuroCham members have been affected by the Coronavirus Disease 2019 (COVID-19) pandemic in a survey earlier this month. Kilian noted that EuroCham members have reported a substantial loss in revenue since the pandemic began.
"As you can imagine, the tourism and hospitality sector is devastated not only in Siem Reap, but also now in Phnom Penh and on its coastline," Kilian said. "As businesses falter, jobs and people's livelihood are being threatened." The tourism industry itself is the second largest employer in the country, providing over 600,000 jobs and generating $4.91 billion in 2019.
In early March 2020, Asia Development Bank's (ADB) COVID-19 economic impact assessment predicted that Cambodia could see a drop in gross domestic product (GDP) growth by as much as 3.07 percent, with hospitality among the worst affected sectors.
The World Bank meanwhile forecast Cambodia's GDP growth for 2020 to drop to 2.5 percent, compared to the 7.1 percent expansion of the economy in 2019.
"The main issues are the lack of cash flow coupled with a lack of certainty about how long the crisis may last," Kilian stated.
Although many businesses have been forced into hiatus, Kilian encourages them to inform the Ministry of Labor and Vocational Training in order to "benefit from any scheme to support employees as well – it will be difficult for the Royal Government to support businesses who are not visible to them."
Data from the labor ministry suggests that as of August 2019, some 95 percent of the small and medium sized enterprises operating in Cambodia were not registered, meaning they will likely not benefit from any such government scheme.
"Our survey indicated that more than 50 percent of respondents believe that it will take between six and 12 months for their businesses to recover from the crisis," Kilian said, adding that nobody can predict how long the current situation will last, making it difficult to have a clear vision.
The most pressing concern right now, according to Kilian is that "businesses are now collecting close to zero revenue and are unable to deal with their monthly fixed costs. In this situation, access to finance in the form of working capital loans would definitely help companies to breathe pending the end of the crisis."
The ADB's April 3 economic outlook shows Cambodia's GDP growth for 2020 is expected to drop to 2.3 percent "as a direct result of the COVID-19 outbreak."
Country director for the ADB in Cambodia, Sunniya Durrani-Jamal suggested that this will only rise back up to 5.7 percent in 2021 if the pandemic ends and economic activity normalizes.
As of April 8, Cambodia has confirmed 117 COVID-19 cases but no fatalities.


Related Articles