Evacuation Centers Handed Over to Local Communities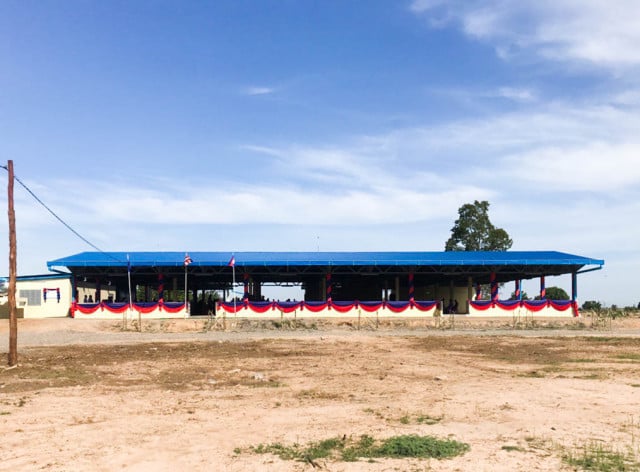 Sao Phal Niseiy
May 21, 2021 12:03 PM
Refuges will provide shelter from cyclones and floods
PHNOM PENH--Six Safe Evacuation Centers were handed over on May 21 to local communities in three provinces prone to natural hazards.
The centers are designed to mitigate the impact of floods in Kampong Chhnang, Kampong Thom and Pursat provinces.
They are funded by the Japanese government through a partnership between the United Nations World Food Program (WFP) and the National Committee for Disaster Management (NCDM).
"They serve the dual purpose of housing displaced families when cyclones and floods strike during the rainy season and of providing a multi-purpose space for the rest of the year," the partners said.
During the official handover, minister and deputy chief of mission of the Embassy of Japan in Cambodia Karimata Atsushi said the government and people of Japan are proud to support local Cambodians' efforts to build resilience and deal with natural disasters.
"Through this humanitarian support, we would like to stay close to the Cambodian people as they attempt to overcome this difficult situation. We hope that this project will further strengthen the friendly relationship that exists between the two countries," Atsushi said.
Srey Nal, Kampong Kor commune chief in Kampong Thom province expressed his thanks to the Japanese government for the financial support as well as WFP and NCDM.

"We will take good care of these facilities so that they can, in turn, take good care of us in hard times," Nal said.
The safe centers, each of which can accommodate between 2,000 and 3,000 people, are equipped with a large hall, a kitchen, a laundry, a storage room, bathrooms, a hand-washing station, a livestock shelter, and a large open field.
Each includes a water supply (tube wells, water storage and containers), an electrical system (a generator and a solar system) as well as lightning protection.
Claire Conan, the WFP representative, thanked the Government of Japan for its invaluable support for the construction of the centers, which will protect people during floods and other natural disasters.
"There are times in life which are difficult and having a place where we can take refuge and feel safe is essential. We hope that these centers will provide that protection for thousands of Cambodians," Conan added.
Cambodia is known as one of the countries most susceptible to the climate crisis, and the country has been affected increasingly by frequent extreme weather events including flash floods, intense winds and droughts.
Last year, Cambodia experienced a drought that ravaged parts of the country during the rainy season, leaving several thousands of hectares of rice paddy ruined. It was followed by flash floods which severely damaged up to 600 rural roads and other infrastructure while claiming the lives of at least 44 people and displacing almost 50,000.
As the Southeast Asian country has been stepping up its efforts to build its climate resiliency, Japan has also been trying to expand its financial support.
In 2019, Japan pledged $2.7 million to the WFP to enhance the resilience of Cambodian communities to shocks and build institutional capacity for emergency preparedness, including strengthening disaster risk management as well as enhancing its early warning systems.
Early this year, Japan allocated an additional $2 million to the WFP to mitigate the impact of floods on food security of flood-affected households and communities across Cambodia.
Related Articles