Evicted Residents Label Government "Dictatorship" after Homes Destroyed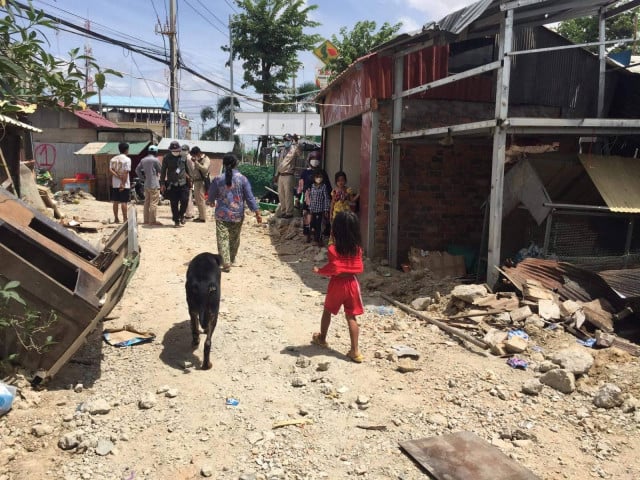 After a drawn-out land dispute, the residents of Boeung Chhouk A in Phnom Penh's Russey Keo District saw their homes demolished last week to make way for a road to a new gated community

PHNOM PENH--A land dispute stretching back to at least 2018 reached a conclusion on Aug. 4, 2021 when authorities demolished the remaining homes of Boeung Chhouk A in Russey Keo District, Phnom Penh.
Residents were reportedly given one week's notice to pack up and leave, but it was an all too familiar threat to Touch Sam On, community representative of Boeung Chhouk A, who also lost his house last week and has contested numerous attempted evictions from the authorities in recent years.
"We cannot do anything when they remove our houses because we live in a dictatorship," said Sam On, who has lived in Boeung Chhouk A since 1995. "The community couldn't come out to stop the authorities from tearing down their neighbors' houses because we're all scared of COVID-19, so we all have to bear this burden by ourselves."
Sam On has seen off numerous attempts to evict him and his community, once in 2002, then again in 2009 when a dispute over the ownership of the land Sam On's house was built on lasted until 2014. That particular 6-year dispute saw four members of the community arrested for protesting outside Phnom Penh City Hall and part of the community razed in a fire that the community believe was an arson attack—no perpetrator was ever found by the authorities.
The latest and ultimately successful attempt to reclaim the community's homes began in March 2018 and paranoia reached a peak for Sam On and his neighbors in June 2020, when villagers stopped going to work or leaving Boeung Chhouk A in order to defend their homes against bulldozers that authorities warned were coming.
But while Sam On managed to keep his home last year, many of his neighbors were less successful. One resident had a heart attack in 2020 when bulldozers tore through his family home, according to Sam On.
Despite Sam On's efforts, Boeung Chhouk A—already the result of Boeung Chhouk Village being divided into three smaller sections A, B and C—was lost little by little. By August 2021, just nine houses remained and the 20 or so people who called them home could do little to stop as authorities tore them down, one house at a time, while the newly evicted stood and watched.
"District and commune authorities came to demolish the houses with hammers, axes, saws and a drill motor​​ to remove the houses," said Sam On. "Now there are two excavators digging the ground and one bulldozer surrounded by a lot of authorities."
One family held out longer than others, refusing to come out of their house all day until, late on the evening of Aug. 4, authorities stormed the house and forcibly removed the family before tearing down their home in front of them.
"Perhaps this is karma for something terrible we did in a previous life," Sam On said, noting that residents weren't allowed access to the site and that the road that was replacing his community was already under construction.
Making Way for Richer Residents
The road in question is, according to Sam On, just the latest excuse for the evictions. Last year, local authorities offered conflicting reasons why the Boeung Chhouk A residents needed to leave.
Commune authorities told reporters that the land had been bought by a private owner, who Sam On said was never named to the community, but when applying for a land title—a process Sam On has attempted to oversee for his community repeatedly—district authorities told him he could not own the land because it was state-public land, which cannot be sold or rented under Cambodian law.
"They will construct a road connecting to a borey [private gated community]—the road is the government's but we heard it leads to one of the boreys up the road and that the government will sell the road to the borey owner," said Sam On.
Having been repeatedly denied any formal documentation that proves he has lived on the land for more than 25 years, Sam On said that most of the families felt there was no recourse as all they had were decades-old receipts from land sales and their resident cards.
"We used to apply for land titles but the government won't issue them, saying this land is development land," he said.
Previously Bray Seyha, deputy district governor of Russey Keo said in 2020 that residents were not being evicted, simply relocated and each family would receive a 4-by-15-meter plot of land. Sam On said he had refused because the relocation site was "inadequate" in that it was further out of Phnom Penh and lacked running water, electricity and houses to live in. He is yet to see the promised land.
Now, Sam On said, the authorities offered nothing but warnings not to resist. With no compensation and no means to legally challenge the authorities, he said that he and his neighbors have given up their fight. He doesn't know where many of his community have gone now, but said he knew some who were staying with relatives or sharing rented rooms.
"Animals can live without houses, but humans can't," said Sam On. "Plus, the COVID-19 virus is hitting us hard right now, people have less income, making us short of food while now we also don't have houses, it's so difficult."
He called on the government to find a realistic solution for him and his community, saying that he only wants to live like other people: With a roof over his head.
"We want land like the government has offered to other affected communities, or money so that we can buy land somewhere else," he said.
Other residents echoed Sam On's demands and fears of having been made homeless as COVID-19 continues to spread through Cambodia.
"I inherited this land from my mother in 1997, we've lived here ever since and in one day it was gone," said Chhoeum Som, who is still searching for a new place to live. "We're so shocked. They didn't listen to us. All they cared about was removing our houses. In less than one hour after removing them, there were excavators preparing the area and filling the soil."
Som confirmed that the community of Boeung Chhouk A were given just one week to leave and had been offered no compensation, but said she was confused as to how the land could be sold on to private owners after she was told she couldn't acquire a land title as her house was built on state-public land.
"We request for an intervention for an acceptable solution," she said. "Now we're dealing with the COVID-19 pandemic, we are struggling while our houses have been removed, forcing us to seek rented houses and carry all our belongings around with us looking for them."
"The compensation can be land or an acceptable amount of money so that we can buy other land," she added.
Touch Bunnai, a 53-year-old security guard who had been living in Boeung Chhouk A for 20 years, said he remembered the place when it was surrounded with forests, the road was little more than a mess of potholes and there was no running water.
According to Bunnai, his community had helped develop the area, made it a place they could live in and now he lamented the loss of it.
"The governor of Russey Keo District demolished the houses," Bunna said. "They told us a week before to dismantle the houses and then on Monday, they demolished our houses without asking permission from us."
"Public Interest" Evictions amid the COVID-19 Pandemic
When reached for comment, Russey Keo District Governor Chea Pisey said that the residents of Boeung Chhouk A had violated the law by building their houses on state property.
"It's the state's road," he said when asked whether the road would be sold and if so, to who.
"It's not for any individual's interest, we did this in the public's interest," he said. "It doesn't matter how many years they've lived there, there's no way they can control state-public land, that's the Land Law."
When asked about compensation for the evictees, Pisey refused to comment, saying that this was a matter for the Phnom Penh Municipal Administration.
"I don't dare to decide on [compensation] but I have to implement the road's plan as it's the state's road," he said.
Municipal Governor Khoung Sreng told reporters that the decision regarding compensation came from the Russey Keo District Governor and declined to comment on why evictions are still going on despite the COVID-19 pandemic and the public health threat such actions pose.
On Aug. 12, Sam On reported that nine families had been offered between $125 and $150 in compensation and have since stopped speaking to him or about the evictions publicly—a request Sam On said he suspects came from the government. He added that his family has still not been offered any compensation.
"Housing has become the frontline defense against the coronavirus. Home has rarely been more of a life or death situation," said Leilani Farha, UN Special Rapporteur on the right to adequate housing in a March 2020 statement in which she urged governments to take "extraordinary measures to secure the right to housing for all to protect against the pandemic."
But throughout the pandemic, evictions have continued across Cambodia where land disputes remain commonplace due to a number of essentially failed projects that aimed to secure land tenure among the nation's most vulnerable.
In June 2021, some 1,000 families of stateless Vietnamese-Cambodians—who neither country wishes to grant citizenship to—were evicted from their floating community on the Tonle Sap River, with Phnom Penh City Hall hinting that more ethnic minorities in Chroy Changvar District may be targeted for evictions in an attempt to "beautify" the capital ahead of the 2023 SEA Games that the city will host.
From Boeung Tamok to Boeung Tompoun, countless residents of Phnom Penh have lived under the specter of eviction since long before the pandemic, but while COVID-19 has altered much of Cambodian life, the lurking threat of sudden homelessness has remained a constant for many, despite the UN's updated guidelines of evictions.
The problem is not just unique to Phnom Penh, nor is it a recent development—many land disputes stretch back decades to a time where Cambodia's land titling was even more chaotic and incoherent than it currently is.
Despite the risk posed by the COVID-19 pandemic, some 400 protesters from at least three provinces, united by their victimization in land disputes, blocked traffic outside the Ministry of Land Management's old building in Phnom Penh on Sept. 21, 2020 demanding compensation in a demonstration of the scale of land-related issues that still plague Cambodians.
It is unlikely that a single province of Cambodia has remained untouched by the conflicts that follow land grabs that often involve wealthy politicians and tycoons or companies granted land concessions by the Cambodian government.
"Both the Cambodian Constitution and the 2001 Land Law provide protections and guarantee compensation against the taking of land from citizens by the state, declaring this is only possible where it is in the public interest and where fair and just compensation is provided," explained Soeung Saran, director of Sahmakum Teang Tnaut (STT), an urban and housing rights group based in Phnom Penh which has followed the developments of Boeung Chhouk A.
It's not just national laws, but international conventions, Saran said, that are supposed to guarantee the right to housing. Cambodia, he added, has ratified five fundamental conventions on the right to housing, which are supposed to offer protection against eviction without proper remedy.
He pointed to the UN Human Rights Commentary and Guidelines on Eviction and Resettlement which details the rights of individuals which need to be respected during the eviction and relocation processes.
"Although it carries no legal weight, it is unclear if authorities are aware of its existence," said Saran. "It is an important tool in helping to outline the key principles that must be upheld by Cambodia in order to respect, protect and fulfil human rights norms during the eviction and relocation process."
In the case of Boeung Chhouk A's residents, who were given seven days' notice, Saran said that authorities had also promised the community plots of land in another community in Russey Keo District, but the lack of information available from authorities had concerned the community as to the quality of compensation they would receive.
Saran said that these concerns were justified, citing the eviction and relocation of residents of Banteay Sleuk from Boeung Keng Kang District in Phnom Penh which took place in July 2020. He noted that the relocation site, outside of Phnom Penh, was "lacking public services such as water, electricity, roads, as well as employment for [the community] in the new location so they are facing many difficulties, especially in earning money to support their family."
The COVID-19 pandemic has seen key economic engines of growth—most visibly tourism, manufacturing and migration—stalled and the patchwork of regulations that have been introduced to curb the spread of the virus have resulted in protests over food shortages, debt-saddled communities unable to pay back their loans and a lack of effective action from key development stakeholders, but on top of these challenges, Saran said that the pandemic has provided cover for the government to go about evicting people without following its own rules, let alone the UN's guidelines.
It is the poorest, he added, who have been worst affected by the pandemic, which has cut off earning potential nationwide, making it even harder for low income evictees to rebuild a life without adequate compensation.
"Many poor families are suffering as they have lost their livelihoods and have greatly decreased incomes because of COVID-19," concluded Saran. "We call upon the government to show compassion and cease all evictions until the COVID-19 pandemic is and its effects have completely ended and to ensure human rights are protected and respected by ensuring adequate compensation and consultation with the affected households."

Additional reporting by Phoung Vantha
Related Articles