Excessive Fear Drives Discrimination against Those Exposed to COVID-19, whether Sick or Not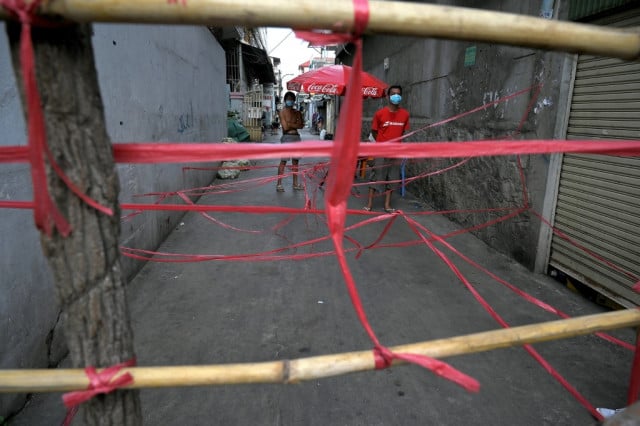 There is a difference between taking the usual social distancing measures and turning prejudiced, an expert notes
PHNOM PENH--As Cambodia battles against the pandemic, many people exposed to COVID-19 have faced and struggled to fight a lingering social stigma and discrimination driven by excessive fear of infection and lack of understanding.
People who have contracted the coronavirus and recovered as well as those who have not had the disease but were in contact with some patients who did still face discrimination from people around them.
Sopheap—the pseudonym of a woman in her early 20s who prefers to remain anonymous—acknowledged that she has experienced discrimination after leaving a COVID-19 quarantine center in April 2021.
"After I was tested [the first time], the medical staff told me that I was only a potential case," she said. "I was asked to monitor [myself] in case I would develop symptoms at home. But back then, I was scared to stay home alone, so I asked them bring me to stay at a quarantine center."
After completion of her quarantine, Sopheap said she was allowed to go back home because she was not infected with the coronavirus. But she immediately noticed something strange happening among people around her.
They seemed to have become scared of her, and some people even ran away when they saw her, Sopheap said. She is cannot say whether their behavior was a form of discrimination, but she surely was offended.
"I remember one day when I went to buy something at a grocery store," she said. "Two daughters of the vendor who are the same age as myself just ran to their house when they saw me and called their mother to talk to me instead.
"I'm not angry by the way, but I'm upset," Sopheap explained. "If they want to protect themselves, they can wear a face mask and keep their distance. But they immediately ran away when they saw me coming even though I just had been in quarantine and did not carry the virus."
According to Sopheap, not only her neighbors, but also some of her friends have also become scared of her. She went on to express how sad she was not to be able to see some of them anymore, adding that it is emotionally very hard to deal with such a situation.
"If a lot of people [around them] do this, it will surely make people recovering from the coronavirus become more upset or even depressed," Sopheap explained.
The World Health Organization (WHO) has recognized that discrimination against those with a history of COVID-19 infection has been happening during the pandemic. WHO said that being stigmatized this way not only have affected the physical and mental health of those people but has also led to a reduction in the number of people who seek medical treatment and testing as well as those who adhere to public-health measures.
However, Udom who has been treated and was discharged from a treatment center after nearly two months, said his own experience was different.
No one has submitted him to discrimination after his recovery from the coronavirus, which has prompted him to reopen his massage business at home a few days ago.
"I did not go anywhere, I only stayed home," Udom said. "No one is afraid of me, and there are guests who come to my place as usual."
Pa Chanroeun, executive director of the Institute of Democracy of Cambodia, said that the situation that Sopheap encountered can be two different things: one is fear of people with a history of illness and the second discrimination.
He went on to explain that, in Sopheap's case, people may still be afraid that Sopheap is sick, so they have run away.
But if they still run away or show too much fear even though they know that Sopheap or other patients have recovered, that is a form of discrimination, Chanroeun said.
"When they demonstrate too much fear, and don't provide services or sell goods to people with a history of COVID-19, the attitude becomes discriminatory, showing immorality and injustice toward the patients who have been treated," Chanroeun said.
"Every [person] should learn and understand that people with this disease are victims, so we should encourage them and keep in touch with them when they recover," he said. "Just keep at a distance and wear a mask to protect yourself [if you still are concerned]."
Thon Sreypov, who heads the counseling program at Child Helpline Cambodia, said that people who have recovered from COVID-19 and, having experienced discrimination, have become severely upset or discouraged should seek psychological consultation.
"All we can do is support them emotionally and encourage them," she said. "If asked how, I cannot provide a specific answer because it is [through the] skill of consultation and encouragement.
"Emotional support is actually [provided] in consultation," Sreypov said.
As of June 27, Cambodia had reported 47,649 cases of COVID-19 nationwide with 42,157 recoveries and 540 deaths.
Related Articles
September 12, 2023 11:24 AM
September 6, 2019 10:30 AM
February 22, 2023 2:22 PM