Explosives Removed from Sunken Vessel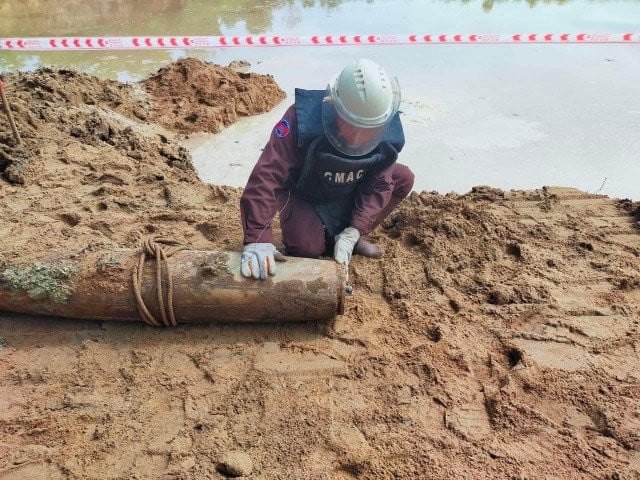 Deminers pull 1,000 UXOs from Mekong River
PHNOM PENH – The Cambodian Mine Action Center (CMAC) has removed more than 1,000 unexploded ordnances (UXO) from a shipwreck in the Mekong River at Prey Veng province.
For almost 20 days, deminers have been carrying out operations at the sunken ship at Peam Reang village, CMAC director-general Heng Ratana said.
As of May 25, more than 1,000 explosives weighing more than 10 tonnes in total had been removed, he said.
"There are probably thousands of tonnes more at the site. This is just the beginning. We will continue our action until all of the unexploded ordnances have been removed," he added.
An expert search showed no technical or safely problems. Several types of explosive were removed from the ship, including 105mm rounds, 75mm rounds and mines.
"A bomb search operation takes about six months to a year," Ratana said.
On May 20, CMAC cleared more than 200 kilograms of MK-82 bombs dropped from planes during the war in Kandal Steung district of Kandal province.
On May 24, CMAC also defused an AN-M66 bomb weighing nearly a tonne from the bottom of the Chaktomuk River in front of the Royal Palace.
Ly Thuch, Senior Minister and first vice president of the Cambodian Mine Action and Victim Assistance Authority (CMAA), said that the Cambodian people and communities continue to suffer from explosive remnants, despite government efforts to address the issue of landmines and explosive remnants of war.
Nearly a million people live and work in areas threatened by landmines and bombs. Wartime explosives claimed 19,805 lives and injured 45,141 others between 1979 and June 2021, CMAA says.
"We must all continue to work together to solve this problem promptly without anyone having to live in fear," Thuch said during a high-level dialogue on mine action in Siem Reap province on May 20.
Cambodia has set a goal to become mine-free by 2025, he said, adding that the action could only be achieved if the government, communities, donors, development partners and the private sector work together and accelerate support for mines action.
On Jan. 10, three demining experts from Cambodia Self-Help Demining were killed trying to remove a landmine in Sen Techas village in Preah Vihear province.
Since 1997, 31 deminers have been killed and 123 injured in operational accidents.
Related Articles