EZECOM Celebrating 15th Anniversary of Shaping And Innovating Technology Sector Beyond Kingdom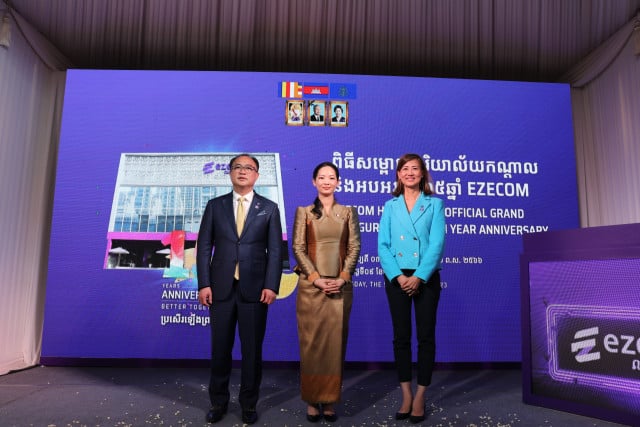 Ezecom has evolved as successful Techco player, collaborating with leading global cloud providers and technology companies, to ignite digital platform needed to power Samdech Prime Minister strategic vision of digital economy. Presiding over the celebration of Ezecom's 15th years in ICT sector was Lok Chumteav Cham Nimul, highest representative of His Excellency Hun Many, President of Union of Youth Federations of Cambodia (UYFC) and Secretary of State of Ministry of Commerce.
Ezecom management reminisced about how the company started its humble beginning as VOIP provider but has been nimble to adapt with the latest technological advancement and its journey has transition from then to current as leading techco provider.
To begin, Lok Chumteav Cham Nimul, highest representative of His Excellency Hun Many, President of UYFC and Secretary of State of the Ministry of Commerce, appreciated EZECOM for its contributions in the ICT sector in Cambodia over the past 15 years, and notably Ezecom has been a leading provider in both price and speed.


The success of the company is truly a reflection of Cambodia's rapid progress in building its information infrastructures as well as the Kingdom's heightened living standards and economic activities, which brings all sorts of operations to life. She continued that making use of the potential of Cambodian youth will also be another venue of cooperation between UYFC and Ezecom.
It should be noted that UYFC and Ezecom have also become partners in promoting digital skills among youth and they recently signed a Memorandum of Understanding on January 14, 2023.
The transformative journey started 3 years ago, through co-create and co-curate its business into providing digital platforms relevant to its esteemed customers. And all these are only possible with collaboration of all stakeholders coming together, and this the main 15th anniversary theme of "BETTER TOGETHER".


Royal Group of Companies Chairman, NEAK OKNHA Kith Meng is one illustrious leader who is very passionate to provide telecommunication services to re-build Cambodia's economic strengths. Throughout the 15 years journey, he has invested significantly through capacity building and other relevant resources needed to shape digital economy and cultivate high employment standards In Cambodia and regionally.
As an illustrious leader by example, by embracing himself with the latest technological advancement and innovation. "Royal Group of Companies has progressive mindset and always stay ahead of the game. Our Kingdom needs progressive developments. And these developments need strong eco systems of industries collaborating. And these industries itself need proven ICT to shape their business. So having the right resources capacity is the winning formulae for our businesses." NEAK OKNHA expressed his gratitude towards loyal competence employees and leadership team who has been integral part of Ezecom growth through these years, raising corporate culture standards in Cambodia. Besides winning multiple international and regional awards in products, services, Human resources and performance awards, Ezecom also won the prestigious ASEAN Business Award in Skill Development in Technology and Telecom 2022 and also Cambodia Digital Awards on Best Digital Innovation Organization. These testimonials further lament Ezecom progressive digital transformation started just before pandemic.


In this joyous anniversary celebration, Ezecom is very proud to take this launch pad, announce their new logo that symbolize the refreshed vision and mission of Ezecom being the leading techco company. The new logo symbolize innovative, energetic and progressive culture and it officiated by the Chairman, Lok Chumteau Cham Nimul and Yuni Lee Heathcote.
Staying ahead of the game in 15 years timespan, is exhilarating. Besides successful enterprise business, Ezecom continues to make headlines as being the ISP to successfully migrate the Kingdom's largest home broadband in the consumer markets. The company is committed to push boundaries in their customer experience with the campaign "Ezecom LOVES you" that communicates care, appreciation and gratitude towards esteemed customers and loyal employees.


The "15th Anniversary BETTER TOGETHER" theme is well represented with multiple colors that symbolized various stakeholders, from customers, regulators, partners, vendors, shareholders and last but not least employees, that collaborate and harmonize together as eco systems, to make success and progress happen for the people and nation, in good governance and strong humanity values.
"To ensure Ezecom has many more 15th anniversary to celebrates, we must re-imagine and re-invent ourselves as the global ICT industry progresses at quantum speed" says Yuni Lee Heathcote, Chief Executive Officer of Ezecom. Ezecom will announce exciting projects in due course that will showcase Cambodian digital capabilities to the nation and region. "We will continue to re-invent our business to attain business relevance to our customers. To future proof our business, we will continue to innovate and be the platform catalyst for robotics, AI and metaverse world." as she continued.


Related Articles
September 13, 2022 10:32 AM