Factories Claim They Cannot Afford to Pay Garment Workers 40 Percent of Salary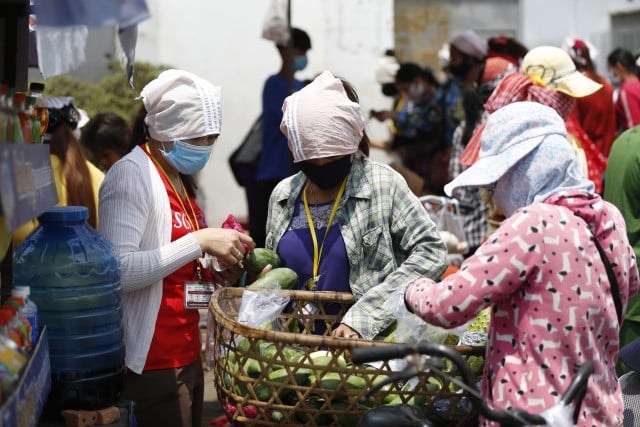 Lay Sopheavatey and Phoung Vantha 
April 2, 2020 8:12 AM
As buyers cancel orders over COVID-19 fears, factories are claiming to have no money to pay salaries and the government is yet to provide their promised 20 percent of minimum wage.

PHNOM PENH--The Ministry of Labour and Vocational Training said on Thursday that 61,500 garment workers have been laid off due to the temporary closure of 91 garment factories as a result of the Coronavirus Disease 2019 (COVID-19) pandemic.

"Government intervention is still in effect," Heng Sour, spokesman for the Ministry of Labour, said on April 2. "The government will contribute 20 percent of the MNW (Minimum National Wage), which is $38," he added.

In addition, under Article 71 of the Labour Law, employers are also obligated to at least pay employees' transport allowance during the lay-off period, he said.

Ath Thorn, president of the Cambodian Labour Confederation, said Wednesday (April 1) that garment workers have yet to receive the 20 percent of the minimum salary that the government has promised, adding that he is not sure what is delaying the process.

He said that workers have only received 40 percent of their base salaries from factories owners, but that the 20 percent promised by the government has no materialized. "I have been informed that some factories owners will not be able to pay 40 percent of their base salary because the factories are not operating due to having no buyers," he said.

According to Kaing Monika, deputy director-general of the Garment Manufacturing Association in Cambodia (GMAC), some international buyers have canceled their orders for months to come while others are expected to follow suit due to the COVID-19 pandemic. This especially affects factories who produce for markets in the United States, the European Union, the United Kingdom and Canada, he said.

"If we evaluate the market shares to which we export, the European Union (EU) accounts for 46 percent of our total exports, 28 percent is the United States, and 8 percent Canada: So it's over 70 percent," he said. Monika added that GMAC is unsure of how many workers will be affected by this.

Estimates are that 750,000 to 800,000 people are employed in the garment manufacturing sector. The number of people whose income is dependent on these workers, including the small businesses who sell to the factory workers and their family members, is estimated at around 3 million people.

The crisis caused by COVID-19 comes as the European Union decided on Feb. 12 to partially revoke Cambodia's access to the EU's preferential trading scheme Everything But Arms, citing human and labor rights violations.

Following this decision, roughly 20 percent more tariffs will be applied in August 2020 to Cambodian exports—which mostly consist of garments, textiles, footwear and travel goods—estimated to be worth around $1 billion annually.


Related Articles