Families of Detained CNRP Members Tell of Harassment, Calling for Government and International Intervention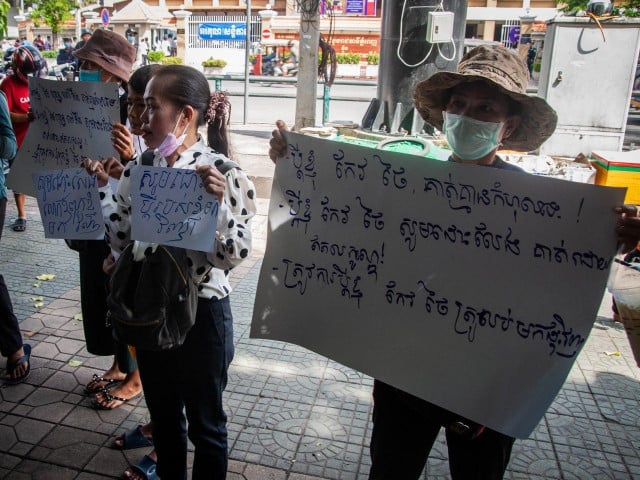 Gerald Flynn and Sao Phal Niseiy
June 30, 2020 4:17 AM
After trying to appeal to the Cambodian authorities to free the former opposition-party members now in jail, family members delivered a petition to the United States Embassy in Phnom Penh, requesting US intervention to help obtain their release

PHNOM PENH--The sounds of chanting cut through the air outside the Municipal Court in Phnom Penh on the morning of June 26 as a group of women staged a peaceful protest that attracted armed police and security forces.

"Release all those who have been arrested! They must be released! All 15 must be released!" These slogans rang out repeatedly for hours outside the courthouse as the women, some of them having brought along their small children, pleaded for the the release of their husbands.

The 15 men have been detained for months due to their affiliation with the Cambodia National Rescue Party (CNRP)—the party seen by many as the only legitimate opposing force to Prime Minister Hun Sen's Cambodian People's Party (CPP) before it was dissolved by the Supreme Court in November 2017.

The 15 arrests, which have been deemed political and condemned by international observers, took place between March and June 2020, reigniting fears that the country is moving further away from the democratic ideals enshrined in the constitution.

"It's difficult to explain what has happened, I cannot accept what happened to my husband: It's an injustice that no wife should have to endure," said Sok Bolima, whose husband, Kheum Pheana—a former senior member of the CNRP—was arrested for plotting and incitement to commit a felony. Bolima added that neither her husband nor the other CNRP members have had adequate access to legal counsel and she does not believe they will be treated fairly by the courts.




Police seize a banner from Sok Bolima at a protest outside the Phnom Penh Municipal Court on June 26.

Bolima insists that her husband and the other 14 CNRP members are innocent and, despite the risks associated with such a protest, she feels that there is no alternative course of action.

"It is painful for me to think of my husband, he is not guilty and now I face difficulties—it feels like I'm now a target," Bolima said while holding back tears. "Police monitor me whenever I go out. I've lost all my income because I have to spend all my time protesting and demanding for my husband to be released."

Bolima explained that she and the wives of the other CNRP members who have been detained this year plan to petition various democracies via their embassies in Phnom Penh. The petition, she said, aims to garner international support for their cause—even though the group only consists of around 10 women.

"We will be here, outside the court, every week demanding the release for our husbands," she said in a brief lull between chanting and interactions with the swarming security forces that had descended on the group of women. "Today we will petition the United States Embassy and ask them to intervene in our husbands' cases—I have no job, my husband is in jail and I simply cannot bear it anymore."

Surrounded by Armed Police

Even before the demonstration kicked off, a combination of uniformed and plain clothes police officers surrounded the women and children. They ordered the demonstrators to stop chanting and proceeded to snatch the homemade signs and banners from the group.

One officer at the scene who declined to give his name explained that he had been instructed by higher authorities to observe the protest.

"They're allowed to gather here today, but their shouting will affect the court cases and disrupt public order—we were given our orders by the city governor," he said.

Moments later, officers shoved their way through the crowd and seized another batch of homemade signs from the protesters, pushing past women and children to prevent the group from holding their demonstration.

"I don't like the way the authorities treat us," said Sar Pha, a 47-year-old woman who had joined the protest to demand the release of her cousin, Heng Chansothy.

Having been arrested on charges of conspiracy and incitement to commit a felony on Nov. 6, 2019, Chansothy was released on bail on Nov. 15 soon after former opposition figurehead Sam Rainsy was prevented from making his scheduled return to Cambodia. The build-up to Rainsy's return led the Hun Sen administration to lash out at former CNRP members, rounding up anyone thought to be associated with the outlawed opposition party and arresting scores of activists. Most of these activists were released shortly afterwards, although their newfound freedom remained under strict surveillance.
Sok Bolima cries as police advance on her demonstration outside the Phnom Penh Municipal Court on June 26.

Chansothy was arrested for a second time on June 5, 2020—allegedly for not reporting to a police station, although his lawyer maintains that this was never stipulated as part of the conditions for his bail. As such, it is now up to Pha—Chansothy's cousin—to seek justice for the former CNRP official.

"The political climate in Cambodia is still tense," she said. "I've had issues with the authorities over land disputes, I have debts to pay off. I should be working to pay for those debts, but this is too important: We need justice."

Pha explained that this was not her first time protesting. She has previously been active in challenging the authorities in land disputes and, as such, she said she was very aware of the risks to her liberty and her life.

"Of course, I'm afraid, I'm on a notice list and the authorities are always monitoring me," Pha said. Still, she remains optimistic, she said.

"We will continue to protest until the charges are dropped against him [Chansothy]," she said. "Until then, we will organize, we will work together with other organizations and the international community in Phnom Penh. These arrests are purely political: He was never plotting to overthrow the government."

Intimidation of Peaceful Protesters

As the 10 women and their children took shelter from the heat, the police continued to circle around them. Authorities in civilian clothes barked updates into camouflage walkie-talkies, while police officers filmed and took photos of the protesters as well as of those who had assembled to report on them. While the right to protest has not been entirely extirpated in Cambodia, it has been severely eroded and people have lost much of their ability to speak out against the government without fear of harassment.

Between 20 and 30 police had been deployed to intimidate the 10 women protesting peacefully, until—fearing for their safety—the demonstration was abruptly packed up and the women hopped into tuk-tuks bound for the US Embassy in Phnom Penh.

Chhay Kimkhoeun, spokesman for the National Police, on June 26 declined to comment on the legitimacy of the protest or the police actions, stating only that "if the local authorities say it is wrong, then it is wrong."

When asked if the actions of the protesters warranted such a display of force from the police and assorted authorities, Chin Malin, spokesman for the Ministry of Justice, said that it would all depend on the context.

"If we're talking about legality, then of course it's not wrong—if you hold a banner at home, or even in public, that's fine," he said in a phone interview on June 26. "But if the local authorities deem you are disturbing the public order or there is some sort of agenda at work, then that's a problem and they will have the authority take administrative action against you.

"Everything depends on the context," he said. "It's not against the law to hold a banner, but we'd need to assess the context before we could make a legal judgement and the local authorities tend to know what is happening in their areas."

Outside the US Embassy, the presence of Cambodian security forces was less conspicuous—a handful of officers in civilian clothes had followed Bolima and the protesters as they ventured from the court to the embassy. But the majority of uniformed officers who had surrounded the demonstration outside the courthouse were no longer present.


Sar Pha (right) and other protesters delivering their petition to the US Embassy on June 26.

Bolima and one other woman met briefly with US Embassy representatives just outside the gates of the compound, where their petition was submitted.

"We came to submit the petition here because we think the US is the most advanced democracy [to have a presence in Cambodia] as it has been providing freedoms and rights to its people, as well as people abroad," said Bolima after she returned from her meeting. "The US is working to monitor the rights situation globally and, as victims, we believe the US will intervene."

Reaching Out to the United States and other nations

While Arend Zwartjes—a public affairs officer at the US Embassy—could confirm that the US Embassy on June 26 had received a letter from family members of former CNRP members, requesting support to secure release of their jailed relatives, he could not comment on any future action of the US Embassy.

"Freedoms of expression and the press, an active civil society, and tolerance of dissenting views are vital components of any democracy," Zwartjes said, adding that the US has provided nearly $3 billion to Cambodia over the past three decades—funding that has included assistance to strengthen democratic institutions, rule of law and political parties in line with the Cambodian constitution.

"We do not support any particular political group or individual, but rather support the Cambodian people's constitutional right to democracy and fundamental freedoms," he said. "We are deeply concerned by the recent series of arrests, harassment, and intimidation of the political opposition by the Cambodian government. We call on all parties to conduct a peaceful, meaningful process of dialogue and national reconciliation."

This petition was the second in what Bolima promised would be a string of requests that will be submitted to various international offices in Phnom Penh in the coming weeks. A similar petition was previously submitted to the United Nations' Resident Coordinator in Cambodia, she said.

"We barely believe in the Cambodian government when it comes to seeking justice," Bolima said. "You can see that the banners and placards we held were taken away by them, even though nothing sensitive was written on [them].

"We call on the authorities to unconditionally release my husband and the others," she said.
Related Articles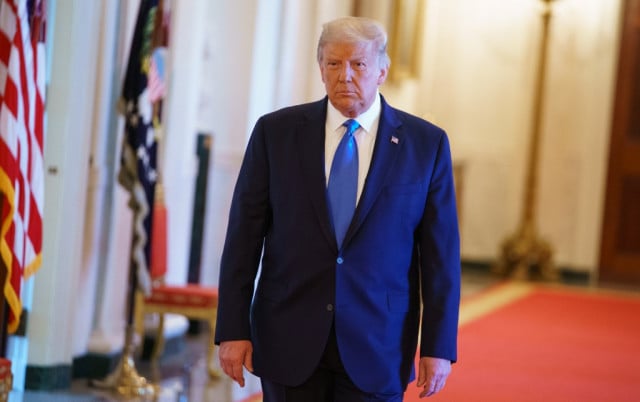 September 24, 2020 3:01 AM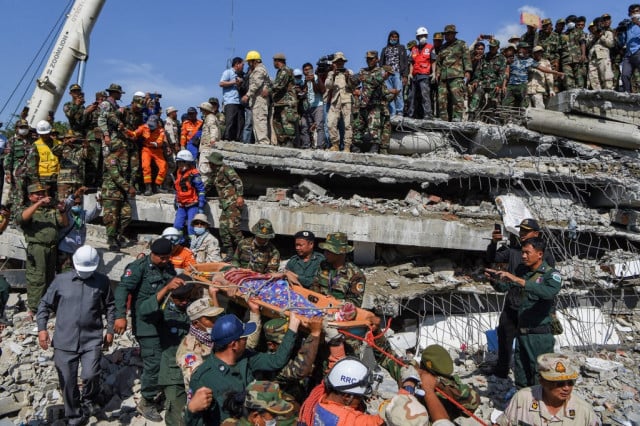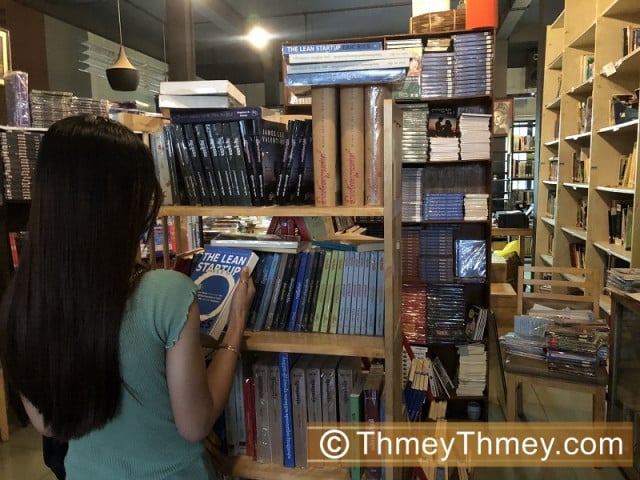 December 17, 2020 5:48 AM