Fans Hail Stadium After ASEAN Football Championship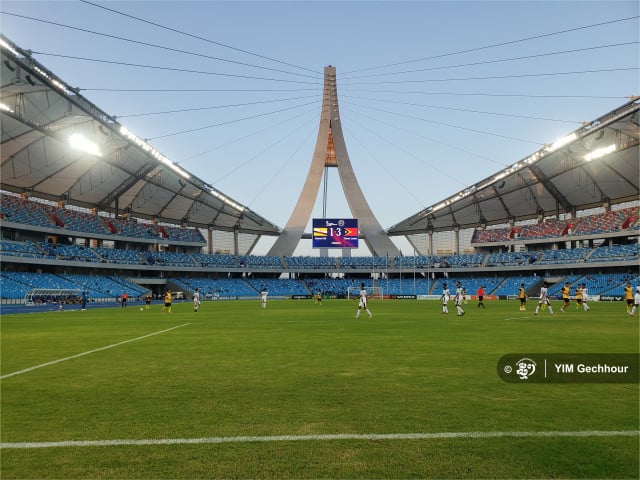 Vietnam takes Under-23 trophy for the first time

PHNOM PENH--Cambodian football fans have praised the Football Federation of Cambodia (FFC) and expressed pride in the new Techo Morodok National Stadium after successfully hosting the ASEAN Football Federation (AFF) Under-23 Championship.
More than 10,000 fans watched Vietnam win the tournament for the first time with a 1-0 victory over Thailand on Saturday.
Despite Cambodia not getting past the group stage, an average of 20,000 fans flocked to the stadium each time the Kouprey Blues were playing.



Fans at the arena expressed joy at watching such a tournament in their country.
"I am so happy to be here, this is a great stadium and shows Cambodia is developing," Oul Chanthorn said.



Another fan, Thol Raksmey said it was a great experience to watch the match at a stadium in Cambodia because he used to see these kinds of match only on television in other countries.
Fans queued up maintaining social distance as officials conducted temperature checks and sanitized the fans as they entered the stadium.



Lay Sothea, a Football Federation of Cambodia (FFC) official liaising with the AFF said football's ruling body FIFA and FFC had expressed satisfaction about how Cambodia successfully hosted the 11-team tournament despite the COVID-19 threat.
"It is great to see that we were able to host the 11-team tournament and provide good hospitality to all the teams and their fans," Sothea said.



"With this experience, we surely have the experience to host major tournaments and the stadium capacity is suitable."
Vietnam scored the winning goal when midfielder Tran Bao Toan left Thai keeper Narongsak Nueangwongsa watching in disbelief as the ball sailed into the back of the net.
The Thais desperately tried to look for an equalizer to no avail.
Vietnam first took part in the regional championship in 2005. Its previous best showing was a third-place finish in 2019.
The Thais were aiming for their second title after winning the inaugural tournament at the expense of Singapore. Thailand lost to Indonesia in the 2019 final.
The tournament was marred by several withdrawals due to COVID-19. Timor Leste and Laos jointly took third place when Indonesia and Myanmar withdrew after several players and team officials tested positive.
The Laotian side was not able to field enough players for the third-place tussle because of injuries and COVID-19 infections.
At the request of the Timor-Leste team, the organizers agreed to declare both sides third-place winners.
The Vietnamese, Singaporean and Malaysian squads were also depleted by the pandemic.
Related Articles