Farmer Suffers as Bunching Onion Prices Plunge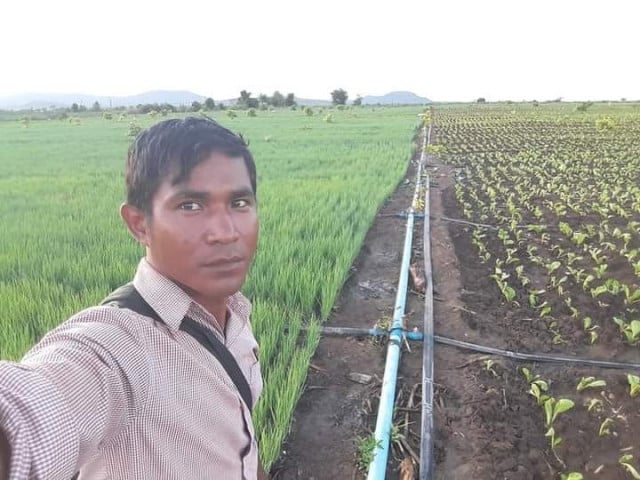 Business squeezed by high costs and low demand
PHNOM PENH--A bunching onion farm in Battambang Province that has been providing jobs for villagers is facing losses due to low prices and the absence of traders.
Owner Pon Robang says he does not want to abandon his farm in Samlot district as it has provided jobs and he has no other business.
He began growing bunching onions to supply the market more than a year ago on the one-hectare plot.
"Before I started growing bunching onions, I could see a kilogram of bunching onion costing 12,000 to 17,000 riel," Robang said.
"If it was not in a season when there was demand, a kilo cost at least 3,000 to 4,000 riel. But, when I started growing and harvesting my bunching onions, I could sell them for only 1,500 to 2,000 riel a kilogram.
It was also hard to find buyers due to the closure of some markets to curb the spread of Covid-19.
Robang has roughly three tonnes of bunching onions unharvested on the remaining 6,400 square meters which will be collected and sold in about 10 to 14 days. He is worried about the unsold three tonnes that could be damaged if left for a further ten days.
A few months ago, while his first garlic leaves were being collected, only half a hectare of bunching onions were sold and those that were left were damaged.
There were no buyers at that time, Robang said. In the past, his bunching onions used to supply traders in Battambang, Kampong Cham, Siem Reap and Phnom Penh.
Robang has to spend $5,000 in a year on planting, fertilizer and maintenance costs but despite the low prices, he said he will not abandon his bunching onion farming career.
"If I give up, I don't know what else I can do. If I continue, I can provide jobs and income to more than 20 villagers."
Robang also grows other vegetables such as cabbage, corn and potatoes on a 24-hectare plot. He said these crops also have price issues. He can manage the cost although it is not very profitable.
Chhim Vachira, director of the Battambang Provincial Department of Agriculture, said other vegetables in the province fetch low prices caused by the Covid-19 outbreak, during which markets and restaurants have to temporarily shut down.
On August 25, government officials in Battambang went to went to rural areas to help affected farmers, and markets in the province were opened.
Chhim Vachira said vegetable production in Battambang has not decreased although the country and the province have been hit hard by the pandemic.
The province has about 2,000 hectares devoted to growing vegetables.
Additional Reporting By Teng Yalirozy
Related Articles
September 25, 2019 2:45 AM