Farmers Cautiously Hope Access to Chinese Market Recoups Pandemic Losses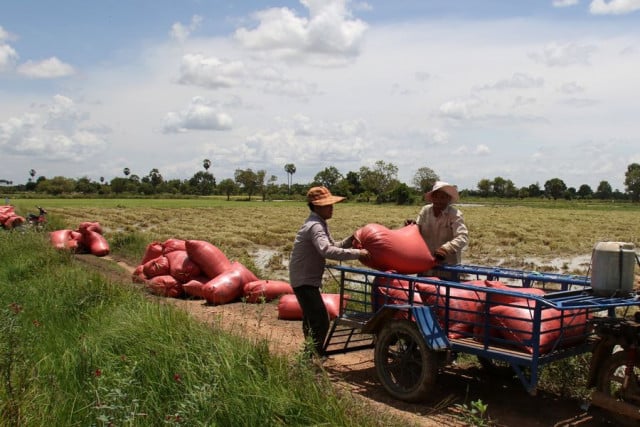 Prime Minister Hun Sen reportedly asked China to expedite the review process for whether to allow Cambodian longan and catfish be exported to the Chinese market, but after COVID-19, farmers are wary
PHNOM PENH--Chinese Ambassador Wang Wentian on Dec. 6 confirmed that China was accelerating the process of preparing imports of longan and Pangasius krempfi—a species of catfish—from Cambodia following a request from Prime Minister Hun Sen.
Speaking at the inauguration ceremony of National Road 11 in Prey Veng Province, Ambassador Wang said China was assessing the sanitary and phytosanitary (SPS) requirements for Cambodian longan and catfish.
"If [the process] is smooth, Cambodian's longan will be able to be exported to the Chinese market during the next harvest, while Pangasius krempfi will be exported to China as soon as possible," said Ambassador Wang.
Hun Sen claimed the acceleration of the process for granting export licenses to Cambodia was a major achievement from his recent meeting with Chinese Premier Li Keqiang and should provide more opportunities for Cambodian agricultural producers with access to China's market.
"We hope to see food on Chinese tables made with Khmer fish," he said, adding that the Cambodia-China Free Trade Agreement will come into effect next month.
According to the Ministry of Foreign Affairs, the two countries aim to reach $10 billion in bilateral trade by 2023—in the first 10 months of 2021, trade between China and Cambodia had jumped to $8.9 billion, a 38 percent increase from the same period last year.
However, trade remains heavily imbalanced, with China only buying some $1.2 billion's worth of Cambodian exports. China's exports to Cambodia, by contrast, were worth $7.7 billion.
Ministry of Commerce spokesperson Pen Sovicheat said the growth in trade demonstrates the strength and impact of economic and trade cooperation between the two countries.
Data from the Observatory of Economic Complexity (OEC) shows that while Chinese exports to Cambodia have surpassed pre-pandemic levels recorded in 2019, it highlights the growing imbalance as Cambodian exports to China appear to have stagnated.
The OEC's data also highlights the relative lack of agricultural products besides rice that Cambodia currently exports to China. Cambodia exported rice worth $171 million to China in 2019, the next most valuable agricultural export Cambodia had to offer was starch, of which exports to China were valued at $17.8 million for the same year.
As such, it remains unclear whether the Cambodia-China Free Trade Agreement will bring much benefit to Cambodia's agricultural sector, but after two years of pandemic induced hardship, longan farmers and fish farmers are cautiously optimistic about the potential of a new export market.
In Kampong Cham Province's Prey Chhor District, Kuy Huotchhay's fish hatchery has seen serious losses over the last two years. He stopped raising the Pangasius krempfi catfish for consumption due to the costs, instead choosing to sell only the hatchlings to other fish farmers.
"Some people have stopped raising fish for a while to wait to see what happens to the market," he said. "If Cambodia finds a new overseas market that pays a good price, then it's good for farmers—Cambodian fish are good quality, most farmers raise them organically."
The quality of the fish is something that Fisheries Administration Director-General Pum Sotha is concerned about and said his team will meet with Chinese customs officials early next year to assess the quality controls needed to meet export standards for the Chinese market.
"When they accept the fish, the Fisheries Administration will support people doing the raising [of fish]," he said.
Fish farmers have long complained of cheap imports undercutting the markets, along with the rising cost of antibiotics and fish food needed to keep their stock healthy, but the pandemic has seen many fish farmers go deep into debt as the domestic market dried up. Things reached a point where industry associations warned last month that fish farming could collapse in Cambodia unless urgent policy interventions are made.
Meanwhile for the longan farmers of Pailin Province, the prospect of exporting to the Chinese market would appear to solve the long-running disruptions at the Thai border. Chea Leat of the Pailin Longan Community said that the Chinese market could be good for farmers who have long relied on exporting to Thailand—a process that has been severely disrupted by COVID-19 and subsequent border closures.
However, Leat remained suspicious—Pailin's farmers had sent longan samples to China in August 2021 to be assessed for quality and, despite promises from Hun Sen, had not heard back since.
As such, she said, many farmers lost income on spoiled longan while others sold below market value to local customers. Leat and other farmers have reportedly taken classes and obtained certificates to prove that their longans meet Chinese customs standards, hygiene standards and sizing standards, but there has been no progress.
"If Cambodia has an official agreement to export longan to China, farmers can export their produce throughout the year as it can be harvested from August to May," she added. "But I have prepared my longans waiting for the export door to open, the longans are ready, we just need the government to make the official announcement."
Related Articles