Farmers Complain of Lack of Compensation for Land Lost to National Road 71C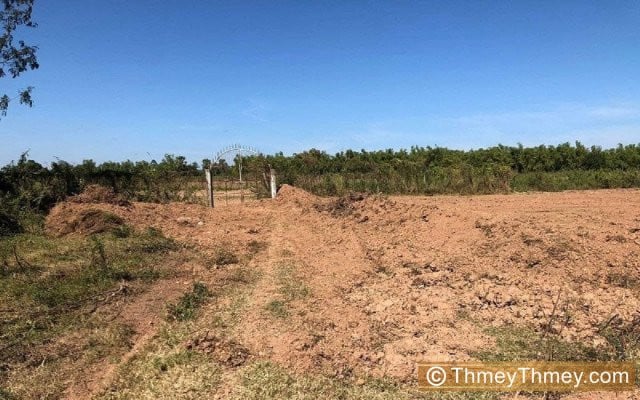 The 114-kilometer road broke ground last month, but farmers in Tboung Khmum Province say they have seen their farms cleared and have received no compensation
PHNOM PEMH--Farmers in Tboung Khmum Province's Krouch Chhmar District have complained about the lack of compensation for land lost to National Road 71C, currently being constructed by Shanghai Construction Company for an estimated cost of $129.98 million, much of which has come from China.
Tam Y Sa, a village representative in Svay Klheang Commune, Krouch Chhmar District, said he was extremely dissatisfied with the way the compensation has been handled, adding that neither he nor the villagers he represents have received proper reimbursements yet. Y Sa said he stopped a truck recently that was clearing land and knocking down fences.
He added that so far, his mango farm, two fish ponds and his banana farm have all been affected by the construction of National Road 71C, but still there has been no compensation.
The villagers have sought the support of the Svay Khleang Commune Hall to address the villagers' concerns, but Y Sa said the commune authorities then accused them of trying to prevent the road's construction instead.
"We, the citizens, do not have any objections to the [road] development, but [they have to] settle the compensation for us first. Please pay the market price at least," he said.
Tboung Khmum's Deputy Provincial Governor Keng Bunna said that the company has no right to clear land without paying compensation first and he called on the Ministry of Economy and Finance to ensure the payments were made to affected communities in Tboung Khmum Province.
"The government, as well as the Provincial Dispute Resolution Committee, did not said they would not pay, it would be just a little bit late. It has been a while now that we have been busy with COVID-19, so it is a bit slow," he said.
"We have yet to complete the impact evaluation and we are trying to speed it up as soon as possible. The second step is to compensate them, do not worry that we are not paying," Bunna said, but added he could not clarify what rate of compensation the villagers would receive.
He suggested it could range from $3 per square meter of land and $4 per square meter of farmland, which he said was similar to rates of compensation offered in 2014, but could not confirm whether this was what villagers would actually receive. He said it was more complicated than other compensation packages.
"We have to tell them that they won't lose [their land], and that the compensation is not bad. [We] don't have any news regarding the compensation yet. [It will] probably be done in early 2022, as we have surveyed a lot of their land already," he added.
National Road 71C finally broke ground on Nov. 23 and is expected to span some 114 kilometers connecting Kampong Cham Province to Tboung Khmum Province via National Road 73, but the COVID-19 pandemic has brought about severe delays to the project which was supposed to be finished by November 2021.
Related Articles