Farmers Get Relief as Pepper Prices Rise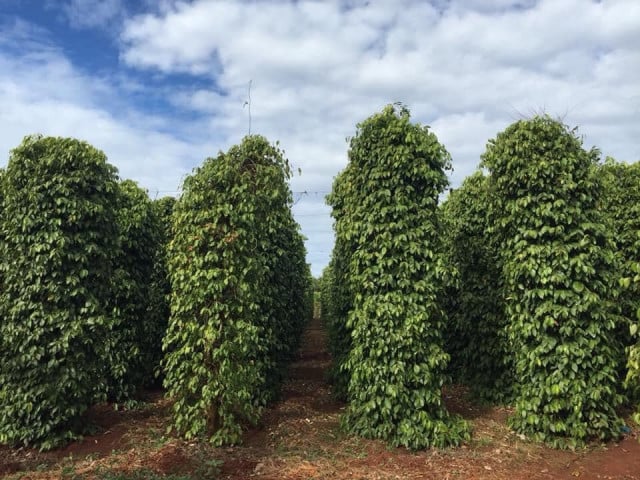 Khorn Nary & Phoung Vantha
May 27, 2021 5:54 AM
Yields were low last year but profits are still slim
PHNOM PENH--Pepper farmers are happy after prices rise in a volatile market. This year pepper costs 12,000 riel per kilo. It was 7,000 to 8,000 riel per kilo last year.
Vorn Savoeun, a pepper farmer in Memot district of Tboung Khmum province, was pleased with the price and expects to harvest 30 tonnes this year from 10 hectares.
He said he almost stopped growing pepper because he did not make a profit last year and the pepper market is unstable.
Pepper prices fluctuate almost every year, making it impossible for farmers to grow in line with the market, he added.
Some farmers have given up the business for many years but now they want to start again after seeing this year's price.
"The increase in prices is a positive sign for local farmers in Memot and now some are seeking seeds to start to grow pepper again," he said.
"Farmers can not just grow based on the market. Some years pepper gives good yields, some years it does not. There is also damage by pest and the weather."
Despite the price rise, he says there is not much profit. "There is a very small profit at this price. If the price is between 15,000 riel and 20,000 riel we make a better profit," he said.
Ham Tro, a pepper grower in Kampong Trach district in Kampot province also said he was happy as this year the pepper market is a bit better than last year.
Tro said he sold white pepper for $28 a kilo, red pepper for $25 a kilo and black pepper for $15.
He hoped the improved market would continue.
"Prices are not different from last year but the market is a bit bigger. In previous years, the market was limited. Brokers were reluctant to buy. Some people could not sell all of the pepper," he said.
Kampot Pepper is a premium pepper that has gained Geographical Indication (GI) recognition.
Pepper usually takes three years to bear fruit. From flowering to harvest takes three months. The harvest season is from March to June.
Agriculture Minister Veng Sakhon said Cambodia exported 6,798 tonnes of pepper to international markets this year, an increase of 4,274 tonnes over the corresponding figure for 2020.
Related Articles