Farmers Hoard Pepper as Prices Tumble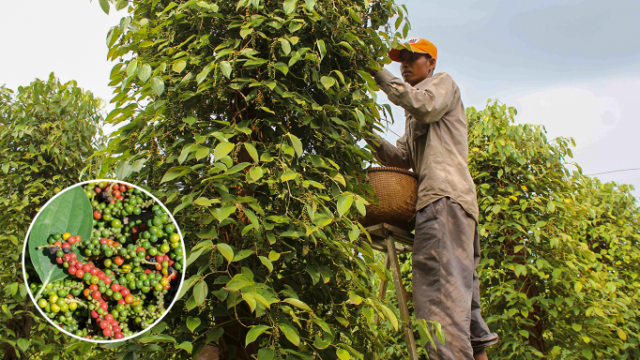 September 20, 2022 4:52 PM
PHNOM PENH – Pepper farmers are suspending sales and stockpiling their products amid increased yields but low prices.
Currently, dried pepper costs 12,000 riel per kilogram, down about 3,000 riel on the same period in 2021. Cambodia can produce about 20,000 tonnes per year.
Mak Ny, president of the Cambodian Pepper and Spices Federation, said the war between Russia and Ukraine had severely affected the world economy.
Tourism in particular seemed to be declining. This and COVID-19 had caused the market and the price of pepper to fall sharply in 2022.
Vorn Savoeun, who grows more than 20,000 pepper trees in Memot district, Tbong Khmum province, said that after COVID-19 cases fell, he and other farmers replanted pepper expecting higher prices.
But the Russian-Ukrainian war in the last seven months had caused the price of pepper to fall sharply and caused serious losses to some farmers. Others decided to give up farming.
"At the end of 2021, the price of pepper rose from 15,000 to 17,000 riel per kilogram, so people start planting again. But since the Russia-Ukraine crisis, it has dropped to 12,000 riel which it's not profitable," he said.
This year, Vorn Savoeun's harvest is better than last year because there had been enough rain for a good crop. However, he was worried about the low market price.
Income from the sale of pepper did not seem to match the production costs, while the prices of fertilizers, pesticides, gasoline and labor were all rising.
"It affects us very much when the price is low, and price of oil is also rising," he said.
In the first eight months of 2022, Cambodia exported 7,335 tonnes of pepper, down 70 percent on the same period in 2021. Vietnam was the largest market with 6,467 tonnes.
Cambodia also exported pepper to the European Union, the United States, ASEAN and other countries in Asia.
Originally written in Khmer for ThmeyThmey, this story was translated by Sam Sopich for Cambodianess.
Related Articles