Farmers in Kandal Province Prepare Fruit and Vegetables to Help Phnom Penh's Needy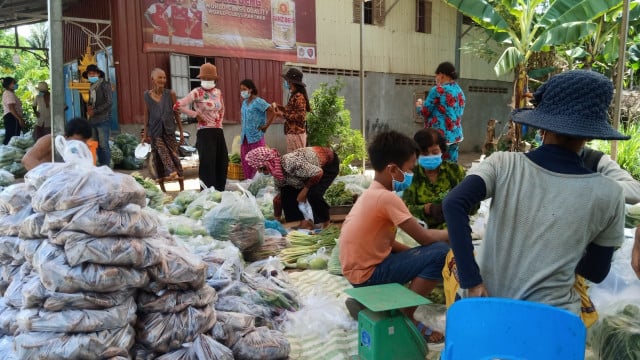 Po Sakun and Sao Phal Niseiy
April 24, 2021 7:06 AM
An initiative launched by a local trader, they hope to ship the produce late on April 24
PHNOM PENH--A local vegetable trader in Kandal Province has been collecting fruit and vegetable donations from people in her community to deliver to those in Phnom Penh who need help the most during the lockdown period. Hopes are that the donations will reach Phnom Penh Saturday evening, April 24.
Sen La, a trader in Prek Tonloap Commune in Loeuk Dek District, said that she had discussed with some people in her community about collecting locally-grown fruit and vegetables to donate to people in Phnom Penh.
"I have discussed with other vegetable traders for two days already," La said on April 24. "We thought that, if we could spend around 100,000 riel ($25) to 200,000 riel ($50) to transport them," she said, they could be brought to Phnom Penh. Many villagers have pledged to donate fruits and vegetable as soon as they could be transported, she added.
According to La, the culture of helping each other during this difficult time is the most important thing that people can do. "Our villagers understand: That's why they offer [fruits and vegetables] to me free of charge and I also spent some pocket money.
"I am not rich but I really pity deprived people," she said. "We just imagine [them] living at home with nothing, and we know it is difficult…Therefore, we think of those who have been through this rough time, and spending this amount of money is not much."
La went on to say that, in her community, many families also have children and relatives who study and live in Phnom Penh and whom they hope to help.
The difficulty of transporting produce during lockdown due to the pandemic

Once the fruit and vegetables were donated, La and the villagers have run into the difficulty of bringing the produce to Phnom Penh under COVID-19 lockdown during which transport between the capital and the provinces is permitted only in special circumstances.
Contacted on April 23, Phnom Penh Governor, Khuong Sreng responded that he welcomed La's initiative and was ready to help with transportation and distribution to people in need in the capital.
However, Kandal Provincial Governor Kong Sophorn said that the community representative who wishes to send the donations to Phnom Penh must submit a written letter so that the authorities can help facilitate the process.
"It is not possible to have this done verbally during this crisis," he said on April 24. "It has to be a document to specify: how many vehicles [to carry the produce], their plate numbers as well as the directions [they will take] and where these products will end up.
"This is to ensure that the local authorities can know the purpose and help facilitate [transport]," Sophorn said. He added that, once he receives the paperwork, he will check, verify and look into how the authorities can let the vehicles transporting the fruit and vegetables get into the capital.
As of April 24, La said that around one ton of fruit and vegetables were ready to be sent to Phnom Penh. But due to the time, it may take to prepare the documents demanded by Kandal Province and the time it may take for the Kandal provincial authorities to process them, La was concerned that the fruit and vegetables would deteriorate.
In the meantime, La and villagers helping her were working on the paperwork they hoped to send to the Kandal provincial authorities without delay. And by early afternoon on Saturday, April 24, provincial authorities' representatives had contacted them and were standing by, waiting to process the paperwork when ready.
Hopes are that the fruit and vegetables can be sent to the capital by Saturday evening, April 24, La said. According to her, developing a culture of helping each other during this difficult time is the most important thing that people can do at the moment.
Fruit and vegetable markets disrupted in Phnom Penh due to the coronavirus
On April 23, Phnom Penh City Hall issued a letter ordering all public markets as well as small and informal markets to close for 14 days from April 24 to May 7 as they have become COVID-19 transmission hotspots.
So far, the closure of markets in Phnom Penh and travel restrictions have hit hard many local farmers who no longer can sell their produce. Farmers and distributors outside the areas under lockdown face difficulties to sell and transport fruit and vegetables as supply chains and key markets have been disrupted.

Reporting by Po Sakun
Related Articles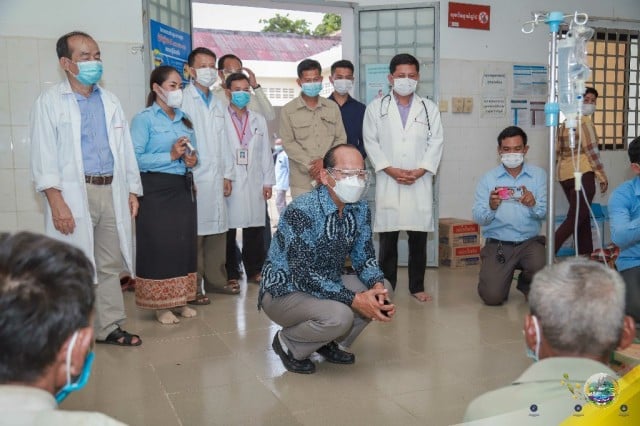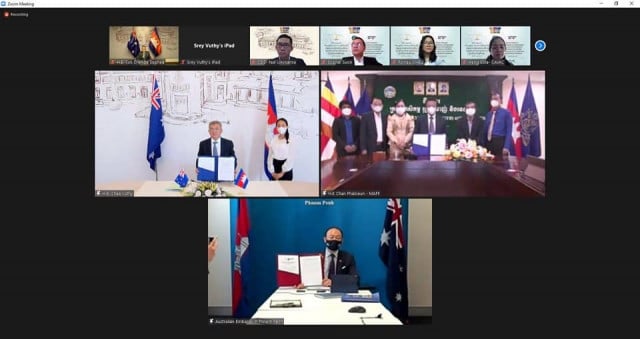 September 30, 2021 7:53 PM