Farmers in Siem Reap Province Are Urged to Speed Up Rice Farming as Rainfalls Increase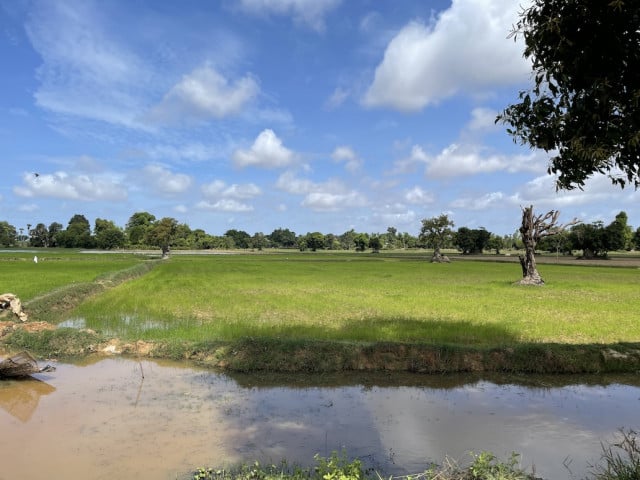 The provincial authorities even recommend preparing for a second planting in case of floods
PHNOM PENH—Unpredictable weather with increased rainfalls due to climate change have led farmers in Siem Reap Province to delay planting to avoid crop damages. However, the authorities are urging them to instead hurry up and plant their crops.
On May 24, the Siem Reap Provincial Department of Agriculture, Forestry and Fisheries has issued a notice, informing farmers to speed up plowing and planting rice as the rain that keeps on falling may lead to floods.
The department also advised farmers to prepare rice seeds for replanting in case their fields are flooded and their first planting damaged. "Prepare the land well and be ready to pump water out of the fields when the rain stops as well as plow and cultivate crop in time," the notice read.
For deep-water rice that cannot be sown, the department recommends that farmers switch to transplanting, reduce the quantity of rice seeds and use natural fertilizers instead of chemical ones.
Red Than, a farmer who cultivates two hectares of rice in Kriel Pong village located in Soutr Nikum District's Popel Commune, said that this year, it is raining so much that she and other farmers in her area have hardly been able to plant rice. Moreover, the rice that could be planted was damaged by rain.
"This year, there are more rainfalls than last year and so it is very difficult to farm," Than said. "A lot of rain is difficult and too dry is also difficult. This year…it has now been five months [into the planting season and] I have not started yet."
Siem Reap Province has experienced prolonged drought over the past few years. In 2021, more than 14,000 hectares of rice paddy were damaged due to this in the province.
And then this year, it is downpours that have affected crops. According to the Ministry of Water Resources and Meteorology, farmers do not expect rice crops to increase this year as heavy rain is likely to last until the end of the rainy season, that is, around September or so.
According to a report of the Siem Reap Provincial Department of Agriculture, 425 millimeters of rain have so far fallen over the province compared to 122 millimeters during the same period in 2021, amounting to nearly four times more rain than a year ago.
So far this year, only 27,475 hectares have been plowed compared to 63,450 hectares during the same period in 2021, and rice have been planted over 9,595 hectares.
The usual weather pattern during the rainy season, which is roughly from May to October in Cambodia, tends to be moderate to heavy rainfalls at the beginning of the rainy season, moderate to heavy rain in mid-season, and moderate to heavy rain toward the end of the season.
Related Articles