Farmers in Urgent Need of Support to Save Crops and Pay Debts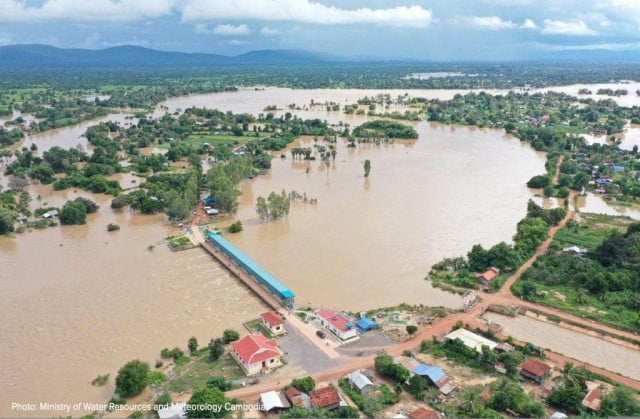 Phoung Vantha
October 19, 2020 6:29 AM
While the government has received $7 million in donations to support flood victims, many affected families can't access healthcare and farmers need to rehabilitate their fields.
PHNOM PENH--The Grassroots Democratic Party (GDP) called on the Cambodia government to help flood-affected farmers by providing financial support to help rehabilitate their farms. They also requested the government intervene to help delay repayments of debts to microfinance institutions.
The National Committee for Disaster Management reported that some 213,289 hectares of rice fields have been damaged, along with almost 80,000 hectares of other crops. As of Oct. 19, the committee reported that 25 people have died as a result of the flooding, with more than 37,000 people evacuated and a further 312,000 affected by the floodwaters.
The GDP on Oct. 18 urged the government to provide materials for farmers whose crops have been ruined, saying that they need seeds, fertilizers and capital to get back on their feet.
"[We call upon the government] to collaborate with banks and microfinance institutions to facilitate farmers and traders who affected by the floods [and to] delay debt repayments," the GDP said.
Likewise, the GDP added that farmers needed oil to be able to run water pumps that would allow them to clear their waterlogged fields and resume cultivation.
They said that the current flooding in Cambodia requires all politicians, authorities and citizens irrespective of their political persuasions to open their hearts without discrimination and act based on the values of unity in the name of Khmers helping Khmers.
Kem Sokha, former leader of the now-dissolved Cambodia National Rescue Party recently visited the flood victims in Phnom Penh's Dangkor District. He warned that people are not only lacking food, hygiene and shelter, but some people—especially children—are also facing illnesses with no access to medical treatment.
"They have requested medical assistance, but the doctor has not yet visited them as they're close to Phnom Penh," he said on his official Facebook page.
Sokha added that he did not blame anyone for the flooding, but urged everyone to provide more support and assistance to those who need it.
"Please encourage and appreciate the authorities at all levels who actively save our Cambodian people," he said.
The Cambodian government has received nearly $7 million from tycoons and will use the money to provide emergency relief to flood victims, according to Prime Minister Hun Sen said.
According to the Hun Sen, the donations will be used to provide emergency relief to flood victims through the National Committee for Disaster Management, but no plan for how the money will be spent has yet been made public.
Related Articles